On Morning Joe on Wednesday the cast and crew gave NBC veteran Andrea Mitchell a brief round of applause welcoming her to the show today and in celebration of her forty years as a journalist for NBC News.
Over the past week, a number of NBC shows have welcomed Mitchell as a guest and congratulated her on her tenure, including Meet the Press, Today, and Velshi & Ruhle, but the most comprehensive was the video released during Mitchell's own show, celebrating her career.
WATCH: @mitchellreports turns to @PeterAlexander and @kwelkernbc for "breaking news" report: a surprise celebration of her 40 years at @NBCNews — including appearances by VP Biden, Billie Jean King, @LesterHoltNBC, @tombrokaw, @chucktodd and more. pic.twitter.com/hFyqlUR198

— MSNBC (@MSNBC) July 31, 2018
On Morning Joe, Mika Brzezinski noted that Andrea is on duty many hours a day, and mentioned a recent InStyle profile of Mitchell which revealed she drinks up to 16 espressos a day.
"Ever since you told that to InStyle it's all I think about. All the shots. The espresso shots," said Brzezinski.
"Let's hope it's healthy," Mitchell replied.
It sure seems to be.
Watch the clip above, courtesy of MSNBC.
[Featured image via screengrab]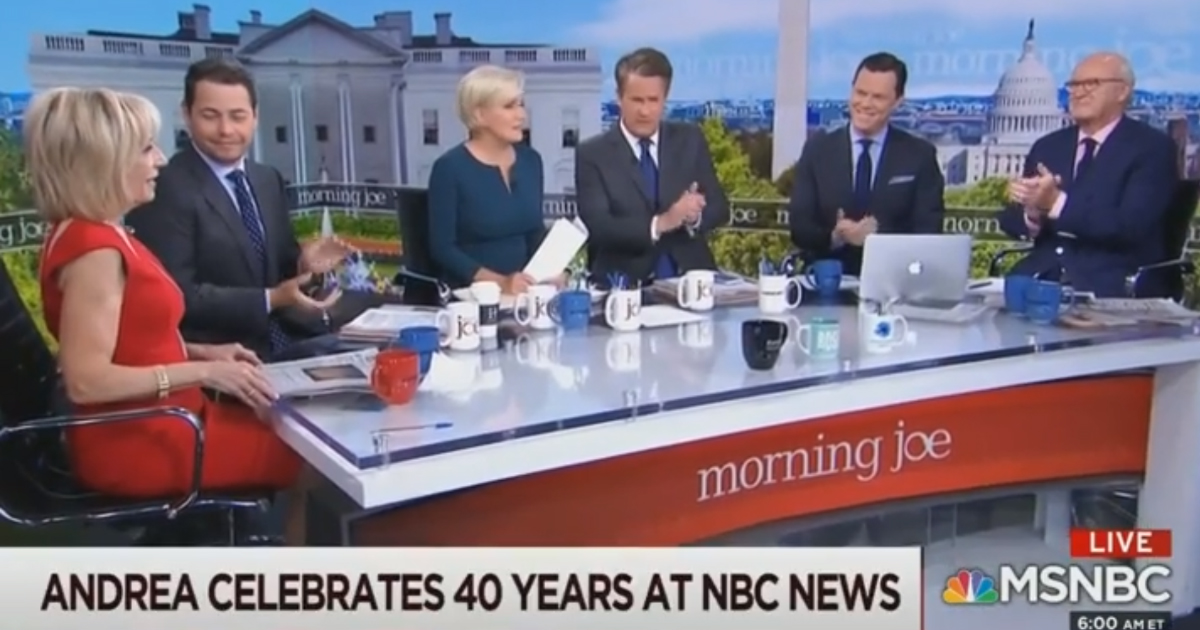 —
Follow Caleb Howe (@CalebHowe) on Twitter
Have a tip we should know? [email protected]