Morning Joe Goes After The Media: We Can't 'Demonize The Entire Religion Of Islam' Due To Radicals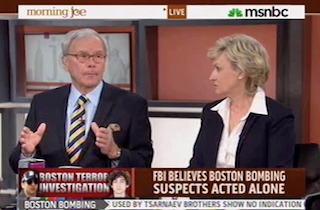 Since the Boston bombing, much of cable news quite naturally has taken to discussing various issues surrounding terrorism and radicalization. Morning Joe on Wednesday was no exception. Joined by The Daily Beast's Tina Brown, the panel also took a look at media portrayal — stressing that we can't "demonize" all of Islam when we talk about radicals.
"The whole family was becoming radicalized, and perhaps by their inability to fit in this culture," Brown remarked, speaking about "home-grown" terrorism and the Tsarnaev family.
As the discussion turned to what exactly "self-radicalized" means, James Peterson asserted, "I want us to be able to go through this process in a way that does not demonize the entire religion of Islam." He pointed to how social media "distorted" aspects of the Boston story, and how we should be able to trust newspapers now more than ever — but Joe Scarborough interjected to note that some newspapers and cable news networks "really screwed this up." Specifically, only the New York Post's name was tossed out.
Brown went on to stress the need for credible news sources to do their "due diligence," bringing Peterson back to his main point. When discussing "radicalization," we need to "make sure we do so in a way that is particular to the profile of folks that are in this case — and that's not used to sort of superimpose over an entire culture or entire religion.
That, he added, is where some news outlets "got it wrong."
Everybody goes "to the extremes on both sides," Tom Brokaw chimed in, "and that is a big part of the problem." Noting the "enormous gap between the Western values and understanding the Islamic faith," he argued the need to understand each other better.
Take a look, via MSNBC:

Have a tip we should know? tips@mediaite.com