Morning Joe Guest: Obama Campaign Used 'Monkeys Chained To Computers' To Create Email Subjects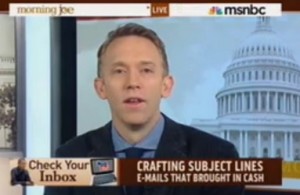 They were the subject of endless ribbing during the 2012 presidential campaign, but those quirky email subject lines that Obama For America sent out to supporters are finally getting their due, sort of. On Thursday morning's Morning Joe, Bloomberg Businessweek's Josh Green talked about his inside look at the OFA fundraising machine's unsung cog with an odd mixture of admiration and contempt, calling the emails "creepy" and "over-familiar," even as he explained how they were instrumental in out-raising the Romney campaign. One of the main points of Green's piece is that those subject lines were thoroughly tested, yet he attributed their creation to "monkeys chained to typewriters, or computers."
Green's article for Bloomberg Businessweek is actually a wealth of fascinating information about the Obama campaign, who "opened the black box" for Green, and shared some of their secrets:
The appeals were the product of rigorous experimentation by a large team of analysts. "We did extensive A-B testing not just on the subject lines and the amount of money we would ask people for," says Amelia Showalter, director of digital analytics, "but on the messages themselves and even the formatting." The campaign would test multiple drafts and subject lines—often as many as 18 variations—before picking a winner to blast out to tens of millions of subscribers. "When we saw something that really moved the dial, we would adopt it," says Toby Fallsgraff, the campaign's e-mail director, who oversaw a staff of 20 writers.
But Green's article, and this morning's Morning Joe panel, were also full of relentless snark about the operation. Green's article rehashed comparisons to "notes from a stalker," while Morning Joe panelist Donnie Deutsch compared the emails to those of a pornography site or a boner-pill vendor, and despite having just explained the rigorous testing involved, Green compared the writers of these emails with "monkeys chained to computers," a reference to a popular metaphor for utter randomness.
Those email subject lines were, indeed, so quirky that they seemed to take on a personality all their own, but since they also raised record buckets of money for the Obama campaign, perhaps they deserve a smidgen more of respect. The Obama campaign, on the other hand, might want to reconsider giving away all of their secrets, especially if all they get for their trouble is to be called creepy stalker-monkeys chained to computers.
Here's the clip, from Morning Joe:
Have a tip we should know? [email protected]