Morning Joe Guest Says Pope Benedict's Legacy Will Be 'Aggressive' Handling Of Child Rape Scandal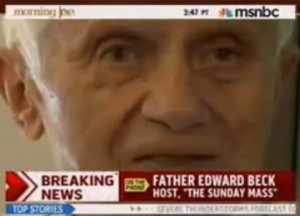 The news of Pope Benedict XVI's resignation from the papacy, the first such resignation since the year 1415, has led to, and will surely lead to more, whitewashing of the former Joseph Ratzinger's role in enabling priests to molest children. On Monday morning's Morning Joe, however, host Joe Scarborough added insult as he sat mute while Father Edward Beck credited the retiring pontiff, "despite some media reports," with "aggressive" handling of what he called the "sex abuse scandal," while ignoring the fact that Pope Benedict XVI's legacy includes being the first pope to be personally implicated in enabling a priest to continue molesting children.
The Pope's resignation comes as a surprise, and has been greeted, by the media, with credulous repetition of Benedict's "advanced age" as the reason for his sudden, once-in-600-years resignation, and tentative mentions of "questions" regarding his role in the Catholic Church's child sexual assault scandals. As Pope, Benedict has made a show of reforming the Church's handling of such crimes, and even apologized to U.S. survivors of these crimes. It is for this that Father Beck thinks this pope will be remembered.
"I think his legacy would be, for many, moving to a more traditional Catholicism," Father Beck told the Morning Joe crew, then added that. "Despite some media reports, many see his dealing with the sex abuse scandal, even when he was cardinal, before becoming pope, as more aggressive than those previous to him. So to kind of get that ship in order again, in the wake of the sex abuse scandal, could be part of his legacy."
He concluded, "Those two things, I think, will stand out, the move toward a more traditional Catholicism, and his handling of the sex abuse scandal."
No one on the Morning Joe panel bothered to point out that this is a bit like saying a fox will be remembered for his henhouse security. Whatever you think of Benedict's actions as Cardinal, and later as Pope, they cannot be uncoupled from his roles in earlier cases, such as that of Peter Hulliman, a German priest who admitted to raping children, was not reported to authorities, but was instead transferred, and continued to molest children for decades. From The New York Times:
Cardinal Joseph Ratzinger, the future pope and archbishop in Munich at the time, was copied on a memo that informed him that a priest, whom he had approved sending to therapy in 1980 to overcome pedophilia, would be returned to pastoral work within days of beginning psychiatric treatment. The priest was later convicted of molesting boys in another parish.

An initial statement on the matter issued earlier this month by the Archdiocese of Munich and Freising placed full responsibility for the decision to allow the priest to resume his duties on Cardinal Ratzinger's deputy, the Rev. Gerhard Gruber. But the memo, whose existence was confirmed by two church officials, shows that the future pope not only led a meeting on Jan. 15, 1980, approving the transfer of the priest, but was also kept informed about the priest's reassignment.
As Cardinal, Ratzinger refused, at best, to defrock a priest who had molested deaf children for decades, and when was asked to intercede on the priest's behalf, the effort to dismiss the priest "came to a sudden halt." He also released a memo to all bishops enforcing secrecy in cases of child sexual assault. From The Associated Press:
The pope, meanwhile, continues to be under fire for a 2001 Vatican letter he sent to all bishops advising them that all cases of sexual abuse of minors must be forwarded to his then-office, the Congregation for the Doctrine of the Faith, and that the cases were to be subject to pontifical secret.
In 2012, Benedict appointed Gerhard Ludwig Müller to head the same Congregation for the Doctrine of the Faith that he, himself, once led. Müller, as it turns out, was a bird of Benedict's feather in more ways than that. From a 2007 Reuters report:
A German Catholic bishop apologised on Friday for reinstating a convicted child molester priest who was charged with a similar crime last month.

Peter Kramer, a priest in the Bavarian town of Riekofen, was arrested on August 30 on suspicion of sexually abusing a minor.

He was convicted of child molestation in 2000, but underwent therapy, received a clean bill of mental health and was reinstated by Bishop Gerhard Ludwig Mueller in 2004.
Whether you think Pope Benedict's later actions were sincere and effective, or simply a PR effort being judged against a bar so low that it smells of brimstone, they must be weighed against those of his failures that we know about. For a guy who's supposed to be infallible, the media sure do give this guy a lot of strikes.
Here's the video, from MSNBC's Morning Joe:
Follow Tommy Christopher (@TommyXtopher) on Twitter.
Have a tip we should know? tips@mediaite.com