Morning Joe Guests Grill GOP Rep. Over Why Republicans Aren't Helping Fix Obamacare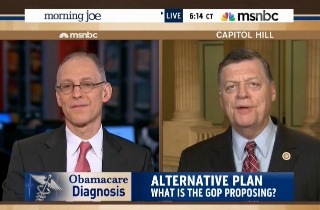 Rep. Tom Cole (R-OK) joined the hosts and guests on MSNBC's Morning Joe on Wednesday to discuss the reboot of the Affordable Care Act and the White House's latest push to promote the law. Cole was pressed over why the Republicans in Congress have not responded to President Barack Obama's request for ideas to help make the law function better.

"Look, I've always said I will work with anybody to implement and approve this law effectively," Obama said in the White House on Tuesday. "You got good ideas, bring them to me. Let's go."
"I'm sure you guys are really excited to hear that, too. That's a change," MSNBC host Joe Scarborough observed.
Cole replied that the GOP has already submitted a number of ideas to change the law. He added that, among the tens of repeal votes the House has taken were seven bills which included reforms to the ACA that passed the Senate and were signed by the president.
RELATED: Obama Gets Standing Ovation After Promising Obamacare Won't Be Repealed
"So, we have been putting ideas on the table," Cole said. "Frankly, the president hasn't put many ideas on the table."
Scarborough asked when the Republican comprehensive health care plan would come from. "There's over 200 Republican-sponsored pieces of health care legislation," Cole said, pointing to a Rep. Paul Ryan (R-WI) plan and a recently released ACA alternative from the Republican Study Committee.
"Again, I think this was the president's responsibility," Cole added. "This signature legislation, so you can't sort of blame the failure on us when we have been against what's failing from the very outset."
Ezekiel Emanuel intervened at this point and noted that during health care negotiations in 2009 and 2010, the White House did try to work with Republicans and their alternative proposals never met the standards the administration set for reform.
"You didn't have a proposal, you had a few ideas," Emanuel said.
"Actually, it is a proposal," Cole countered. "It's just simply not the proposal that you wanted." The congressman said that GOP critiques of the president's approach to health care reform have been "borne out" by events.
"The exchange is a free market idea," Emanuel asserted.
"Gosh, then maybe free market people ought to run it, because you're not running it very well," Cole added.
Watch the exchange below via MSNBC:
[Photo via screen grab ]
— —
> >Follow Noah Rothman (@NoahCRothman) on Twitter
Have a tip we should know? tips@mediaite.com