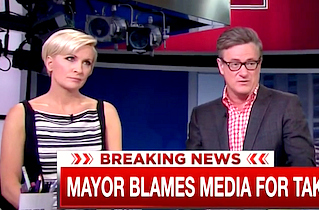 After the smoke cleared from the Baltimore riots Tuesday morning, the Morning Joe crew was left unimpressed with Baltimore Mayor Stephanie Rawlings-Blake, whom they said "might not be up to the task" of calming a city angry over the police death of Freddie Gray.
Hosts Joe Scarborough and Mika Brzezinski called out Rawlings-Blake for her statement over the weekend that protesters needed "space to destroy," which she has since said was taken out of context:
I want to clarify some remarks being taken out of context: I did not instruct police to give space to protesters seeking to create violence

— Mayor Rawlings-Blake (@MayorSRB) April 27, 2015
"She's accusing the media and another critics of taking the line about giving those who we shall to destroy space to do that out of context," Brzezinski said. "I don't know how you can take that out of context. It's just something she shouldn't have said."
But Scarborough said the worse crime was Rawlings-Blake's veto of a bill from the City Council calling for body cameras on cops, saying a study needed to be done. The lack of cameras is one of the reasons no one has any idea yet how Gray's spine became "virtually severed" during a ride in a police van.
"This mayor made sure she vetoed that bill, that the City Council told her we have to pass or really bad things are going to happen in Baltimore," Scarborough said. "City Council was right."
This is not entirely accurate. Rawlings-Blake openly supported the national call for body cameras, and objected at the time to the City Council's authority to impose a department-wide mandate on police. Via The Baltimore Sun's write-up at the time:
In a letter to the council, Rawlings-Blake said she supports having police wear body cameras but opposes the legislation, in part, she argues, because the council does not have the authority to impose the requirement.

"The council's power does not and should not extend to legislating the operations of the police department," she wrote. "I would be equally as concerned with an ordinance that mandated the use of a specific type of bullet."

The mayor said she will ask the council to authorize funding for a body camera program early next year. She recently convened a task force to study the issue and said she wants to wait for the group to release its findings.
Watch the clip below and delete your accounts, via MSNBC:
[Image via screengrab]
——
>> Follow Evan McMurry (@evanmcmurry) on Twitter
Have a tip we should know? tips@mediaite.com