Morning Joe Heaps Praise On Fox's Chris Wallace For 'Drilling Down' On NRA's LaPierre's 'Stupid Arguments'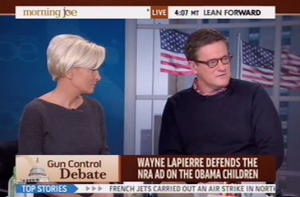 Yesterday, Fox News Sunday's Chris Wallace challenged and questioned the arguments NRA CEO Wayne LaPierre made during their interview about gun rights — making for a rather tense segment. The folks over at Morning Joe took note, lauding Wallace's grilling.
RELATED: Chris Wallace Skewers NRA's Wayne LaPierre On Gun Violence: 'That's Ridiculous And You Know It, Sir'
Wallace's interview grew particularly tense when LaPierre seemed to disagree with his assertion that the president's children face different threats than other schoolchildren do. At one point, as LaPierre said all children are entitled to the same amount of protection at school, Wallace said: "You really think that the president's children are the same kind of target as every school child in America? I think that's ridiculous and you know it, sir."
"Wow! Chris Wallace, man," Joe Scarborough reacted. "Good on him!"
Looking at the class/elitist argument LaPierre made during the interview, Scarborough remarked, "I don't know what's wrong with him" — commenting on the hypocrisy of making such an argument despite having security guards himself.
"And this argument — and Chris Wallace really drilled down hard here — the argument, seriously, that all of our children deserve the same amount of protection as the president of the United States' children?" he continued. "That's the problem with Wayne LaPierre and the extremist wing of the NRA's arguments. They're stupid arguments."
"It's something Sarah Palin would say," Mika Brzezinski chimed in.
Mark Halperin, too, felt Wallace did an "outstanding" job: "What a journalist should do, without fear, favor or ideological point of view…a great job." It was a "seminal moment," he added, because it showed that many of LaPierre's arguments are "not on point."
Take a look, via MSNBC:

Have a tip we should know? [email protected]