Morning Joe Hits Rubio's 'Performance Issues': Looked Like Candidate For College Fraternity President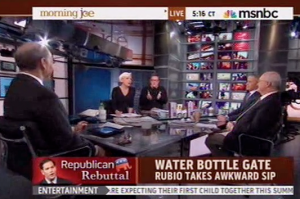 On Wednesday, the Morning Joe crew naturally discussed President Obama's State of the Union address, as well as Sen. Marco Rubio's giving the Republican response. While Rubio is a good speaker, the panel seemed to agree, he was off his game this time and had some "performance issues."
After playing an initial clip of Rubio's speech, Mika Brzezinski went on to show Rubio's now-infamous drink of water, which Joe Scarborough deemed a "cheap shot."
"I think there were performance issues," Brzezinski noted. "These things happen when you don't really know what you're saying or believe what you're saying or feel what you're saying."
"Or," Scarborough quipped, "you're speaking to millions and millions and millions and millions of Americans…this is the toughest gig."
But, eventually, they somewhat digressed. Rubio's been "billed as one of the future leaders of the party," Harold Ford, Jr. remarked, "but he looked last night as if he was running to be the head of a fraternity in college." Fraternity president, he repeated.
Scarborough then offered a piece of advice to those who may aspire to give the GOP response in the future: "If you drink the water, own the water." But the panel did seem to agree that Rubio usually fares better. "I've seen him speak many times, and he's usually quite poised," Kelly O'Donnell noted.
"I sat there thinking, 'Is this how we're going to reach out to a new generation of conservatives?' I don't think so," Scarborough asserted.
We've got to apply our beliefs and our values to the facts that are before us. And it's what this party hasn't done. It's what Mitt Romney could never do. He could never connect the dots to relate to middle America. And Marco, for all of his talents, didn't do that last night. We've got to actually start figuring out a way to relate our message.
Take a look, via MSNBC:

Have a tip we should know? tips@mediaite.com