Morning Joe Holds Multiple Panels on Historical Origins of Racist Frat Chant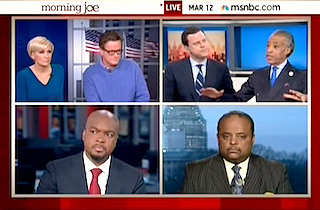 One day after Morning Joe endured severe backlash for its segment blaming the Oklahoma University's SAE chapter's racist chant on rap lyrics, the morning show hosted several panels featuring a variety of African-American reporters and commentators, who weighed in on the historical context of the chant. Not mentioned: rap.
Gone was Bill Kristol. Instead Reverend and fellow MSNBC host Al Sharpton, underrated MSNBC reporter Trymaine Lee, and TVOne NewsOneNow host Roland Martin all elaborated on the historical and structural legacies of racism that undergirded the chant and that predate rap by centuries. At one point the discussion occurred entirely among the three African-American panelists, a sure improvement over yesterday's all-white panel.
Yesterday's discussion centered on the frat boy's use of the epithet "nigger," which the hosts said had been normalized by rappers to white hip-hop listeners and thus rolled off innocent tongues. Today's panel focused on the violence inherent in the chant's reference to lynching. "It is a leap from the epithet to the idea of hanging black people from trees," Lee said, noting that crowds of white people used to stand around approvingly at lynchings, much as the other frat members of the bus did not even attempt object to the chant.
RELATED: Waka Flocka Flame Responds to Morning Joe: 'This Isn't About Rap'
Sharpton cited W.E.B. Du Bois, locating the anger of the African-American community in a "double life" in which black people never know, when dealing with bosses or police officers or waiters or their friends, who's chanting these things behind closed doors. "That's where that anger ever comes from," Sharpton said. "That's what Du Bois 100 years ago talked about. This is the double life a lot of us have to lead. You just don't know who you're dealing with."
Martin extended the discussion out to what happens when frat boys with this attitude enter the workforce and achieve positions of authority, embedding into economic structures discriminatory viewpoints that are all the more insidious for being privately held.
Hosts Mika Brzezinski and Joe Scarborough seemed cognizant of yesterday's scrutiny. "Yesterday the conversation got real, and some people conflated it with other things," Brzezinski said in an earlier segment, adding that the connection between the chant and rap music was a "news" connection, not a moral equivalency. At one point Brzezinski began, "I'm gonna bring another conversation into this—" and Scarborough said under his breath, "Be careful."
Watch the clip below — seriously, it's a decent one — via MSNBC:
[Image via screengrab]
——
>> Follow Evan McMurry (@evanmcmurry) on Twitter
Have a tip we should know? [email protected]