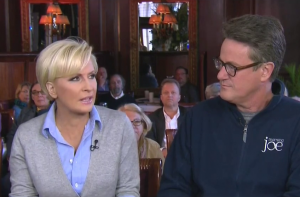 MSNBC's Morning Joe hosts Joe Scarborough and Mika Brzezinski dedicated an entire block of their show Friday to refuting the accusation that they were in the tank Republican presidential candidate Donald Trump.
Scarborough said that other media outlets were scornful of the program because they were one of the first to say that Trump had a serious chance to win the nomination. "Now that it is happening, they are now mocking and ridiculing us because we got it right and suggested that somehow we're too close to Donald Trump, when that's just a lie," he said. "The fact of the matter is, they're just angry because they have been wrong for nine months and we've been right."
"It's not just scorn we're getting, from some of our competitors we're getting a strange microscope as if we are incapable of asking Donald Trump tough questions," Brzezinski argued. "If you watched the town hall, you would see that we've asked him every question, we've pushed back."
Brzezinski threw in a veiled shot at CNN while she was at it. "And yet you have our competition holding a similar town hall and asking him if he likes pizza! Are you kidding me? And what music you listen to. I don't remember doing that."
"This is Trump Derangement Syndrome," she declared ("It is," her co-host agreed).
Scarborough also attacked The Washington Post's Erik Wemple, asking if he also planned to attack CNN's questions, and threw some shade in Dylan Byers direction. "Our competitors have hired media reporters who have actually planted this seed in other people's head that we're going easy on Donald Trump."
"Then we asked tougher questions than our competitors ask, who have the media writers, and people have the audacity to ask are we too close to Donald Trump. The answer is no, we're not," he said.
Watch above, via MSNBC.
[Image via screengrab]
——
>>Follow Alex Griswold (@HashtagGriswold) on Twitter
Have a tip we should know? [email protected]