Morning Joe Hosts Reject Bill Clinton's Obamacare Comments: 'Grasping,' 'A Stretch'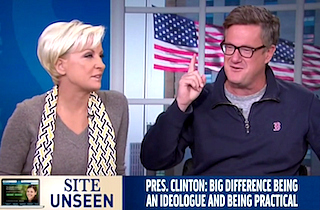 Morning Joe co-hosts Joe Scarborough and Mika Brzezinski mocked former President Bill Clinton's speech over the weekend, in which Clinton said "that computer deal will get fixed up, don't worry about that," and reminded the crowd that Democrats had supported the rollout of Medicare Part D, which faced similar technical problems to Obamacare.
"Personally, I think the next soundbite is a stretch," Brzezinski said as she introduced the clip. "I tried it on Friday and it just rang hollow. When the former president does it, it works, but you can tell he actually has to really try to talk around it. He doesn't have that thing."
After hearing the clip, in which Clinton said that Medicare Part D had been less popular than the Affordable Care Act, but that Democrats had tried to help people understand how to use it, Scarborough said, in his best Clinton voice, "Well, that would be good if it were true."
"President Bush pissed off all conservative because giving away prescription drugs to senior citizens was not an unpopular concept," he explained.
"I actually agree with [Clinton]," Brzezinski said. "But the Medicare Part D argument is just grasping. This is a bad roll out, okay? It can be fixed. A website can be fixed. To the effects of shutting down the government and doing what the anti-Obamacare cabal in Congress did—far more dangerous and long lasting in terms of implications."
Scarborough dismissed Brzezinski's argument with a wave of his hand, indicating the shutdown would have little long term impact.
"Oh, really?" she said. "Well, thank you for wasting all of that money."
Watch the full clip below, via MSNBC:
[Image via screengrab]
——
>> Follow Evan McMurry (@evanmcmurry) on Twitter
Have a tip we should know? tips@mediaite.com