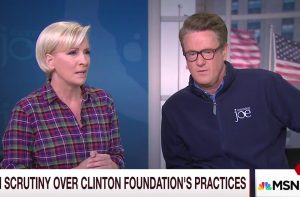 The hosts of MSNBC's Morning Joe devoted nearly twenty minutes Thursday morning to tearing into the Clinton Foundation after new emails revealed the extent to which the Clintons used their charity to personally enrich themselves.
In one new email, Bill Clinton aide Doug Band spoke openly about how he negotiated for big donors to give $50 million to Clinton personally as part of their deals to donate to the Clinton Foundation in exchange for access to the former president, which he called "Clinton Inc." In another, Hillary Clinton aide Huma Abedin made it clear she had to meet with the Moroccan government after they gave the Foundation $12 million. "She created this mess and she knows it," Abdein said.
"The people around her are well aware of the problem…" host Willie Geist said. "Those closest to Hillary Clinton know– and Hillary Clinton must know on some level– that all these things will not look good going into a presidential election. At best, they're unethical."
Co-host Mika Brzezinski agreed that the Foundation looked scandalous in a "kind of morally deficit kind of way, a sleazy way."
"It's gross, it's gross," Nicolle Wallace agreed.
Brzezinski said she spoke to her father, former Carter national security advisor Zbigniew Brzezinski, and he "doesn't get how this is constantly happened in sort of the Clinton empire… it's perplexing to him that this seems to be acceptable."
"There's no question that if you've ever been to [Clinton Global Initiative], you see business going on," said Bloomberg's Mark Halperin, "and that Bill Clinton, Doug Band and others enriched themselves by leveraging those relationships and offering access to people."
Joe Scarborough questioned why Donald Trump's charity was under investigation by the New York Attorney General, but he refused to look into the Clinton Foundation. "From what I've seen, the Trump Foundation probably needed to be shut down. But those are just nickel and dimes compared to the money here. They're bragging about using this foundation to make the Clintons hundreds of millions of dollars," he argued.
Watch above, via MSNBC.
[Image via screengrab]
—
>>Follow Alex Griswold (@HashtagGriswold) on Twitter
Have a tip we should know? tips@mediaite.com