Morning Joe Intensely Debates Paul Ryan's Charge Of White House Class Warfare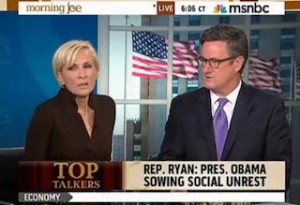 Things got unusually tense for the typically convivial set of Morning Joe today when the topic of class warfare came up, in particular the recent charges made by Rep. Paul Ryan (R-WI) that President Obama was "preying on the emotions of fear, envy and resentment" and "sowing social unrest" in trying to pass the American Jobs Act. Mika Brzezinski took exception, and challenged her co-host Joe Scarborough to weigh in on what she saw as a hypocritical comment. Scarborough's hemming and hawing defense of Rep. Ryan didn't match Brzezinski's much sharper point, as the conversation verged dangerously close to uncomfortable for morning television.
Brzezinski's point was fairly simple: Ryan's allegation that Obama was playing "class warfare" was in of itself, more divisive than anything the President has said. Her point echoed Tommy Christopher's take, who earlier wrote:
This "class warfare" construct is baffling in that any adult would try to use it, and all the more baffling because it works on some people. According to a new poll, 69% of Americans think Republican policies mainly benefit the rich, versus 12% who believe that about President Obama….All (he) is doing is telling the story that Americans, if polling is any indication, know is true.
The class warfare narrative might be an effective, though cynical, ploy, but it is at its essence a non-starter when it comes to resolving political differences. Or as Brzezinski said, its "false argument here," adding "because for either side to say the other side is sowing resentment is actually doing that."
For his part, Scarborough seemed more interested in not saying anything critical of Ryan, demurring in his response with the super-soft counter argument of "there are two ways to look at the world." He later added that, while he wasn't looking for a debate, the President needs to make sure "he doesn't go over the line to demagoguery and class warfare."
Which, if the White House were to strictly follow that advice, would leave the effectively cynical campaign tactics of "demagoguery and class warfare" to the GOP.
Watch the clip below, courtesy of MSNBC:
Have a tip we should know? tips@mediaite.com