Morning Joe Is Baffled By Rick Perry: 'Felt Like An Alien' Watching People Cheer Him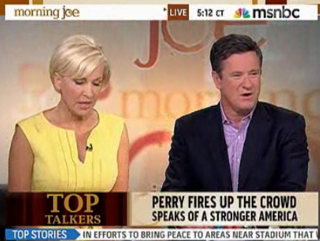 Texas governor Rick Perry got a warm welcome at this weekend's Republican Leadership Conference, with calls to run in 2012 escalating and a well-lauded speech. This seemed to baffle both Morning Joe hosts today, as Joe Scarborough tried to understand how "doing a George W. Bush imitation" was appealing to some while Mika Brzezinski merely added that she "felt like an alien" watching people applaud him.
"I think I saw this guy on Broadway," Scarborough joked after a clip of Perry at the RLC played, alluding jokingly to the Will Ferrell show You're Welcome, America, an impression of the former president Scarborough thought was about as authentic as Perry's speech. Brzezinski, meanwhile, mostly shook her head at the idea that Perry could be popular, while the two were enthusiastically challenged by Mark Halperin, who argued several times that, while "my gut tells me he's not going to run, there's room for him in this race." Halperin noted three factors about Perry that could make him dangerous to other Republican candidates: he's a Southerner, a Tea Partier, and a social conservative– and Texas created more jobs than any other state in this rough economy.
While it is noted that the latter point is somewhat diminished by the fact that rising oil prices disproportionately help states like Texas with their job markets, Halperin stood by his defense of the governor, to which a bemused Scarborough merely shook his head at the prospect, adding "I don't get it," while Brzezinski rushed to change the subject.
The segment via MSNBC below:
Have a tip we should know? tips@mediaite.com