Morning Joe Is On Team Juan Williams (But Donny Deutsch Still Thinks O'Reilly Is A 'Jackass')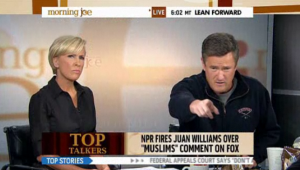 It seems like all anyone on TV can talk about today is Juan Williams' firing from NPR. It also seems that very few of them are coming down on NPR's side of the story and I'm not just talking about the folks over at Fox News. Both the ladies of The View and now the Morning Joe gang are all firmly on Team Juan Williams. Joe Scarborough called NPR's actions "disgraceful," while both he and Donny Deutsch demanded Williams' reinstatement.
The main concern of the group seemed to be that Williams was fired for a clip of what he said about fearing Muslims on a plane, which was actually a set up for his full argument about overcoming our nation's prejudices.
"JOE SCARBOROUGH: And let me say this, again, the thing is that is the natural reaction of a lot of Americans. Not me and probably not a lot of us, but that is a natural reaction of many Americans. It's better to talk about it and then to say this is a prejudice we have as a country. It's something we need to move past, which is what Juan Williams was trying to say. And for that, Mika, he got fired.

MIKA BRZEZINSKI: And you know what scares me about that? It seems like something's wrong with this business. Something's wrong with what we do if we get fired for having a peaceful voice and for trying to have a peaceful discussion about things we are really worried about."
They had some harsh words for people who took the clip out of context (even admitting that they had to re-edit their own to show the full story) and the "left wing sites" who called for Williams' firing (Deutsch called them "guys in their underwear on their blogs"). They also had words for Bill O'Reilly who they repeatedly stressed Williams was arguing with(Deutsch called him a "jerk" and a "jackass" who should have gotten fired).
Clearly most on-air talent, no matter what channel they're on, don't like the idea of getting fired this quickly for saying an opinion. I bet Rick Sanchez is wishing he got a quarter of this much support.
Watch the clip from Morning Joe below.
Have a tip we should know? tips@mediaite.com