Morning Joe Lauds Connecticut For Country's Toughest Gun Laws Post-Newtown — But 'Leaves A Lot To Be Desired'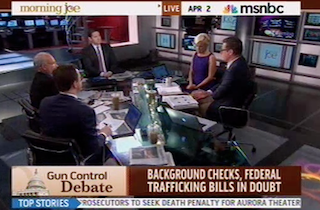 A little over three months after the shooting at Sandy Hook Elementary School, Connecticut lawmakers agreeing on what they're calling the toughest gun control legislation in the country. Lauding that as a victory for gun control advocates, the Morning Joe crew debated what it would take to get something done nationally on the issue — still pressing that "Newtown changed everything."
Joe Scarborough and Mark Halperin questioned whether to remain optimistic about passing background checks at the national level, with Halperin noting that we need to wait until the debate hits the Senate floor (the House, obviously, will be a problem on that front).
"I think of all of the things that ever happened when I was in Congress, the most surprising was actually in a gun control debate where the Democrats took a gun control law to the floor," Scarborough recalled, "and we were like, oh, lord, we're going to get absolutely pounded. They're going to kill us for days talking about, you know, how cold-hearted we are."
But once it got to the floor, he added, the debate shifted. Connecticut's law is a measure of how difficult it is to achieve progress on gun laws, Willie Geist added — because while it would apparently be the toughest in the country, it "doesn't touch handguns, which are responsible for most of the shooting deaths in this country."
"This is progress if you believe that gun control is a good thing," he asserted. "It's very tough by our national standards, but it still leaves a lot room and a lot to be desired."
The segment went on to talk about the cultural divide that defines the gun control debate and how many living in urban areas don't "get it" when it comes to gun culture. As Scarborough does in nearly every discussion about the topic, he brought up Supreme Court Justice Antonin Scalia speaking to the limits and freedoms of the Second Amendment.
"Regardless of your views on guns, Newtown changed everything," he argued. "Newtown changed everything."
Take a look, via MSNBC:

Have a tip we should know? tips@mediaite.com