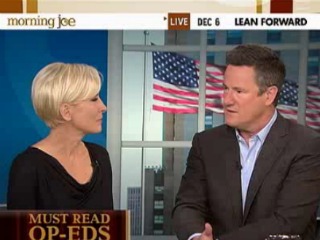 On Tuesday morning, the Morning Joe crew discussed what the future may hold for current GOP front-runner Newt Gingrich. Co-host Mika Brzezinski read a piece by the New York Times' Frank Bruni declaring that "Familiarity Breeds Newt":
RELATED: Brit Hume: President Obama Has 'Good Reason' To Prefer A Campaign Against Gingrich
Republican strategists have who were never persuaded that Michele Bachmann posed a credible threat, and who maintained similar skepticism about Cain, say that the Gingrich challenge is different, and that he could really be the one to ruin things for Romney. For Democrats, that would be a Godsend. The benefits of familiarity wouldn't work as well for Gingrich in the general election, where he'd be a more polarizing figure than Romney, whose blandness and ideological squishiness have an upside…

Although Gingrich has gone through his own policy contortions, his image and personality are more sharply defined: petulant, truculent, arrogant. If voters supporting him in the primaries were going to be turned off by that, wouldn't it have happened already?
Brzezinski coupled Bruni's piece with one from The Washington Post's Marc Theissen, who quoted a Romney adviser as saying a Gingrich nomination would become more about his past and "tumultuous Speakership" rather than his possible future as president, or even about Obama's own "failed presidency."
Panelist Mark Halpernin weighed in, noting that there has been a "disconnect" between the way Gingrich is viewed by establishment DC types and real voters. Gingrich's time at Fox News is, he added, a huge advantage for the candidate. Former U.S. Rep. Harold Ford, Jr. added his take, taking note of the quickness with which Gingrich managed to obtain a book deal.
"Can you imagine," he continued, "if he's President, him negotiating with the other party around issues with his propensity for bombastic statements, let alone his propensity to say grandiose things about himself? Can you imagine putting him in a room with Russia, Russian leaders, Chinese leaders, Iraqi leaders, Afghan leaders? I mean, I don't think he wins Iowa." Host Joe Scarborough reminded Ford that Gingrich does have his role in orchestrating an "historical legislative landslide" working in his favor.
Brzezinski remained seemingly unconvinced.
"You can shape a message and get right to your base on Fox News," she conceded. "And that has been brilliant on his part."
It my be worth noting that Mediaite columnist Tommy Christopher had seized on the "Will Newt Gingrich Eventually Fizzle Out Like So Many Candidate Before Him?" narrative some weeks ago. It was a question he posed and responded to with a resounding "yes" in a post titled "Top Ten Reasons Newt Gingrich Will Flame Out Like A Napalm Birthday Candle."
Have a look, courtesy of MSNBC:
Have a tip we should know? tips@mediaite.com