Morning Joe Mocks Obama's 'Doomsday' Sequester: 'Nobody Told Him' He Won Election, 'Nothing's Happened'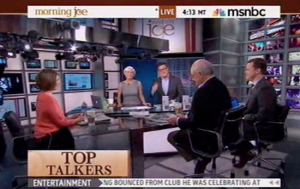 America, those automatic spending cuts are upon us — and it's all downhill from here. Or is it? Morning Joe wasn't buying President Obama's "doomsday" scenarios during Monday morning's discussion about the sequester. In the grand scheme of things, Joe Scarborough contended, the cuts are just a "penny on a dollar."
"Nothing's happened," Mike Barnicle chimed in, much to Mika Brzezinski's chagrin. She instead noted that his may not have affected Barnicle and Scarborough, but it is affecting people nonetheless.
In the end, Scarborough noted, that Obama later admitted that the whole situation wasn't quite so apocalyptic, after spending so much time detailing the "doomsday course" about the "immediate, devastating effects — cats and dogs living together." God forbid.
Some of the White House's claims, Brzezinski added, went from "alarming to flat-out inaccurate." That served as a segue for Scarborough to mock the claim that there would be pink slips going out to teachers immediately.
"Oh my God," he remarked dramatically. "What's my son — I've got a little 4-year-old. He loves going to school in the morning. […] They're not going to [school]?"
"No," Barnicle replied. "Starting Wednesday, Joe. Home."
Getting away from the mockery, Willie Geist informed, "The White House actually, turned out, couldn't produce a single district where the sequester was shown to explicitly cause layoffs."
It's interesting, Nicolle Wallace added, to see how "completely disoriented the Democrats and the Obama administration seems to have become by the message here." They're just confused about the effects of the cuts.
"The president's running a presidential campaign," Scarborough asserted. "Nobody told him that he won…He's exaggerating like he's in the middle of a campaign, Mika."
The problem, Scarborough and Wallace said, is that the president created the sequester. He saw this coming.
Take a look, via MSNBC:

Have a tip we should know? tips@mediaite.com