Morning Joe Mocks Palin Senate Run: Being A Candidate Is Different Than 'Running Your Own Cooking Show'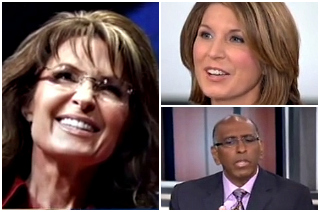 Following Sarah Palin's hints last night that she is considering a 2014 run for Senate, a Morning Joe panel wondered whether other Republican candidates, especially in states not the red of Palin's jacket, would actually want the outspoken Alaskan to run, or if her tendency toward blunt expressions of the GOP platform would force other candidates to answer for her comments.
"It doesn't matter," former RNC Chairman Michael Steele said. "Whether she's on the ballot or off the ballot. If Sarah Palin injects her voice into a national conversation in any form, it's obviously going to bleed across the spectrum. That piece of it is largely irrelevant, because the press will make her relevant to any conversation the minute she says something."
"The difference, though, is that if she's running, she will be asked to weigh in on all the policy debates that a serious candidate is going to have to," Nicole Wallace said. "If you're running for office in a state, you're going to have to weigh in on how you would vote vote on the immigration bill. The challenge would be whether she's talking and speaking out as a commentator, as a reality TV host, if she gets her own cooking show, or if she runs for president, the kinds of questions she'd have to field I think would be intertwined with the serious policy debates."
Wallace was the John McCain aide assigned to Palin during her 2008 run as Vice President, and was one of the first to object to Palin as unqualified for the position.
"It's one thing if she's running her own cooking show and being asked about what's going on in the Middle East versus being a candidate for the United States Senate and being asked," Steele said. "If she's running her own cooking show and comments on that, yeah, I can see that bleed out to other campaigns. If she's running for office, that's her view on that issue."
"The trick question would be if someone asked her where the Middle East was," Harold Ford Jr. said.
"On her cooking show," Wallace said.
"If she could figure out," Mike Barnicle said.
"If it was visible from parts of her property," Ford said.
Watch the segment here, via MSNBC:
—
>> Follow Evan McMurry (@evanmcmurry) on Twitter
Have a tip we should know? [email protected]