Morning Joe Offers Advice For 'Semi-Moderate, Reasonably Sensible' Republicans: 'Switch Parties'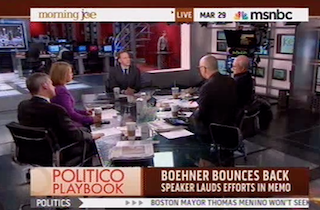 On Friday, Morning Joe tackled a topic it so often does: the Republican Party. This time the crew was responding to House Speaker John Boehner's memo about the party's "new tactical plan," which he said had largely succeeded. The panel sought to understand the implications of the plan — and what happens to the other "reasonable" Republicans.
"We listened to each other, and adopted a new strategy for the coming year that has put Republicans on offense and Democrats on defense," Boehner said in the memo. "From #NoBudgetNoPay to Leader Cantor's #MakingLifeWork initiative to last week's passage of our Path to Prosperity budget, we've used our limited power in Washington to maximum effect, and shown the Democratic majority what leadership looks like."
"What does this mean?" Mike Barnicle asked. "That some of them are going to act like they are not mentally ill or what?"
"I would not leap to conclusions!" POLITICO's Mike Allen quipped, deeming Boehner's memo a "self-high-five." The speaker is trying to bring the team together, he asserted, observing that it doesn't say much about what the GOP's approach will be in the days ahead.
"What happens if you're a semi-moderate, reasonably sensible Republican in that caucus?" Barnicle further pressed. "What's your future?"
"You switch parties," Bloomberg Businessweek's Joshua Green replied. On a more serious note, he said Boehner does have a little bit to gloat about, given that they prevented the president getting more tax revenue. Conversely, however, they've not yet shrunk the size of the government or made their party more appealing.
"It's not pure victories but small, tactical, incremental victories that don't go to the larger project that's at hand for the Republican Party," John Heilemann jumped in. As the government appears increasingly dysfunctional, Allen added, Boehner likes reminding people that "he is half of one-third of the government" — and Republicans are a minority of the government.
That said, the roundtable largely agreed that Boehner and his "durable" majority will be around for some time.
Take a look, via MSNBC:

Have a tip we should know? tips@mediaite.com