Morning Joe On Joe Scarborough's Politico Post: Is Romney Too 'Normal' For 'Inhumane Slog' Of Politics?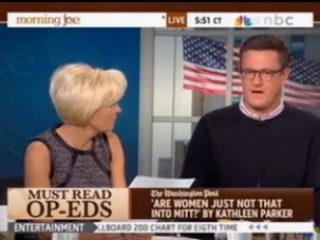 On Wednesday, Morning Joe host Mika Brzezinski read a bit from a post her co-host Joe Scarborough had written up for Politico. Is Mitt Romney's issue in this race, Scarborough's column suggests, that he is too "normal" for the sometimes absurd demands that come with running for public office?
In the post — titled "Let Mitt be Mitt… and dull" — Scarborough writes the following concerning Romney:
RELATED: Morning Joe Hosts Break Down Over Idea Of 'Unzipping' Mitt Romney
Although he's a lousy politician, everyone who knows Mitt personally sees him as a great father, a devoted husband and a gifted businessman. If you spend a few minutes with the man's family, you can see his character shining through in his wife and five boys. But being a good man has not always translated well on the campaign trail. Perhaps this is because the business of politics is such an inhumane slog that only the craziest among us can look like normal human beings while going through the grind of a presidential election.

Mitt can't fake it. He stinks at politicking. But then again, so did many others who would later succeed at governing. If Boston wants their candidate to humanize himself, maybe they should just let him admit that fact and stop trying to stuff himself into a suit that doesn't fit.
"He's just not comfortable playing politics," Scarborough added.
When the panel suggested that Romney's problem may not be, as Scarborough's column seems to say, "excessive normalness," but instead "a problem connecting with people on a different level," Scarborough explained that he was saying that "politics requires you to go out and play natural while you're shaking the 10,000th hand of the day and kissing the 20th baby and laughing at the 500th joke, and you've got to be an actor while your family's melting down at home, you know, other things are happening. It's an inhumane process."
Have a look, via MSNBC:
Have a tip we should know? tips@mediaite.com