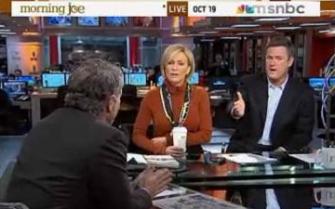 There was another discussion of Glenn Beck and the Fox News vs. White House battle today on MSNBC's Morning Joe and disagreement on the set brought some new angles to the debate.
Donny Deutsch talked about message – and the White House's mishandling of it. And Joe Scarborough brought up some unnamed liberals who went after the Bush administration.
"They are elevating Fox," said Deutsch. "Think about this, it's the President of the United States, the commander of the free world, versus a television network with a couple million viewers. It's a ratings bonanza, it's insane. They should just be dismissive about it."
Co-host Mika Brzezinski disagreed with the assessment, but then Scarborough made a Bush administration comparison while discussing the charge that Beck and others like him are "dangerous":
I heard that about certain TV people on the left, every day, from Republicans. What did the Bush White House do when they were compared to Nazis or Fascists? We heard every day that they hated the constitution, that they were evil people. The Bush white house did nothing, they were quiet. They didn't elevate them.
(Fascists? I wonder who Scarborough could be referring to…)
Newsbusters reports on a different part of Morning Joe, when Brzezinski got very real about bias. Even though she said NBC and CBS (her former employer) "try their best to be objective," she could only "think of one" fan of George W. Bush out of all the producers and anchors she encountered during 10 years at CBS News. Check out the clip on Newsbusters.
Scarborough took to Twitter to defend Brzezinski's comments today.
Here's the Deutsch segment:
—–
» Follow Steve Krakauer on Twitter
Have a tip we should know? tips@mediaite.com