Morning Joe Panel Clashes Over Whether GOP Has Losing Tactics Or Just Losing Ideas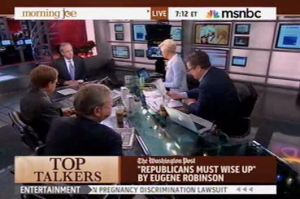 Tuesday's Morning Joe tackled an op-ed by the Washington Post's Eugene Robinson, who argued that the Republican Party's problem isn't poor tactics, it's unpopular ideas. Not everyone on the panel was onboard with that idea — as they sought to decipher what what wrong and how to make sure it doesn't happen again.
In his column, Robinson writes:
The biggest problem the Republican Party faces is not uninspiring candidates or unsound tactics. It is unpopular ideas.
[…]
Where is the incentive for Democrats to get serious about fiscal matters? As long as the GOP remains adamant on what many Americans see as a no-brainer question of basic fairness, those who believe in progressive solutions get a pass.
[…]
Faced with an opposition that verges on self-parody, progressive thinkers are mostly just phoning it in. This won't change until somebody defibrillates the GOP, and we detect a pulse.
On the show, he made the same argument, saying that progressives can be "lazy" because Republicans are "so far out in right field" — and it's bad for the country. Dan Bartlett countered by pointing to the number of Republican governors and senators, which is a testament to "real ideas" being put into place. Joe Scarborough agreed, saying the problem seems to be on the national stage — where the party was "battered" in an election they should have won.
That turned the discussion to the primary process, which most of the panel agreed didn't help. Candidates with a strong base and a way to bankroll their bid "can stay in the campaign and drive the consensus candidates nuts." So how, Scarborough asked, can we avoid the Herman Cains and Donald Trumps next time around? Easier asked than answered.
Watch below, via MSNBC:

Have a tip we should know? tips@mediaite.com