Morning Joe Panel Gang Up on HuffPost Editor for Putting Trump in Entertainment Section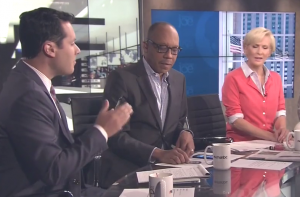 Morning Joe's Wednesday panel took turns chastising Huffington Post editor Sam Stein for his site's continued decision to only cover Donald Trump in its entertainment section.
Host Mika Brzezinski began by reading off the results of a new poll finding Trump has a commanding lead on his Republican challengers and has made massive improvements in his numbers against Hillary Clinton. "Now that's entertainment, Sam Stein," she joked. "I'm entertained with how you're going to wiggle out of that."
"The Huffington Post is doubling down on its decision to label its coverage of Donald Trump's presidential campaign as entertainment, despite the fact that Donald Trump is within six points of Hillary Clinton and dominating Jeb Bush, dominating the Republican field," co-host Joe Scarborough noted.
"Sam, go home and tell them to change it," Brzezinski implored.
"I've got a problem with this," she continued, "This reminds me of the Fox debate, like a news organization trying to like control something and move it along in the direction that they believe is righteous."
"You know, with all due respect to [founder Ariana Huffington]… I think it's crazy," liberal Washington Post columnist Eugene Robinson agreed. "We can't dictate what is, and we can't dictate who Republican voters say they want to have as president. And we have to cover that person. I mean, we just have to."
National Journal's Ron Fournier joked that "if Huffington Post is going to treat Donald Trump like entertainment, maybe they should treat Hillary Clinton like fiction."
"Let's look at this as a meta-commentary," Stein eventually said. "We're living in a world that is vastly different than it was a while ago, where party bosses don't pick a presidential candidate, but we have a merger of politics and entertainment. It's just a fact. We have a merger of politics and entertainment, and Donald Trump is better at it than anyone we've ever had before."
"I love Ariana, but this is Ariana and Donald Trump fighting each other and it needs to change," Scarborough said. "It needs to change pretty soon, because Donald Trump is not a sideshow, he's in first place."
Stein explained that when Trump made substantive policy points– like opposition to birthright citizenship– that issue is discussed in their politics section. "But Trump himself is an entertainer in politics."
Watch, via MSNBC.
[Image via screengrab]
——
>>Follow Alex Griswold (@HashtagGriswold) on Twitter
Have a tip we should know? tips@mediaite.com