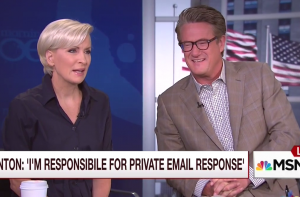 The Wednesday panel of MSNBC's Morning Joe tore into Hillary Clinton's apology for using a personal email server, mocking the Democratic presidential candidate's wooden tone and insincerity.
Hosts Joe Scarborough and Mika Brzezinski began by pretending they hadn't already seen the video of Clinton's apology in an interview with ABC's David Muir. "Wow, more than six months if you can believe it, of that kind of dealing with the email scandal. I think we have a change this morning!" Brzezinski said facetiously.
"I haven't seen it, but it's got to be really exciting," Scarborough said. "It's got to be massive, it's got to be like the end of a dramatic movie." With that he cued the control room to play the climatic ending of It's a Wonderful Life…
…Followed by Clinton's wooden apology. "When are we going to see the real ending?" asked Mike Barnicle, as Scarborough pretended to wipe away a tear.
"Just do the end of it," Scarborough said, "Hold on a second. Listen to how flat the voice is at the end. Seriously, this was a hostage video, right?"
"Did they cut out the part where she says, 'Okay, you happy now?'" asked Barnicle.
Scarborough laughed out loud when Brzezinski played a second video of Clinton apologizing in an upcoming apology on The Ellen DeGeneres Show. "I'm sorry, I gotta say, it read a lot a better in the Washington Post breaking news alert. She says it with the flattest of affect."
Scarborough noted that the effect of Clinton's apology was dampened by the fact that she had to be "dragged" to give it in the first place. "Kicking and screaming," agreed Bloomberg's John Heilemann.
Watch, via MSNBC.
[Image via screengrab]
——
>>Follow Alex Griswold (@HashtagGriswold) on Twitter
Have a tip we should know? tips@mediaite.com