Morning Joe Panel Pans 'Horrific' Clinton Speech: 'She Should Fire Most of Her Staff'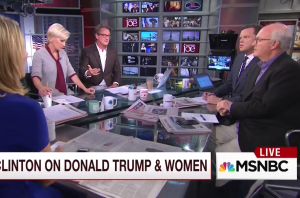 The panel of MSNBC's Morning Joe gave Hillary Clinton low marks for Monday's speech before a "Women for Hillary" event, with some even saying she should consider firing most of her staff.
After watching video of the speech, NBC's Willie Geist said the Democratic candidate's message — attacking Donald Trump for his attacks on women — was on point. "It's just performance delivery. It's completely different than Bernie Sanders or Donald Trump," he said.
Host Joe Scarborough agreed. "I'm sorry, she's looking down and reading her notes."
"She's delivered that line many times before," Geist pointed out.
"Can we just do what we do on this show?" Scarborough asked. "Can we do what we do on this show and tell the truth? Can we actually tell the truth? That was a horrific performance. That is horrific."
"If you don't have that part of your message down and you're Hillary Clinton, no wonder your numbers among women went from 70% to 40%," said former Republican strategist Nicolle Wallace.
Even contributor Mike Barnicle wasn't feeling it. "She's an accomplished, formidable candidate who is hamstrung by her own inability to handle her self-inflicted email wound. The email wounds — perhaps lethal — have prevented her from getting a message out."
"She is clearly — she should fire most of her staff," he said. "She's so overly stage-managed that she sets up right there a curtain between her and any audience that she has, whether the audience is watching her on TV, or whether the audience is there in person. She just sets up a curtain between herself and the audience."
Watch, via MSNBC.
[Photo via screengrab]
——
>>Follow Alex Griswold (@HashtagGriswold) on Twitter
Have a tip we should know? tips@mediaite.com