Morning Joe Panel Rips Into Obama's 'Baffling' Syria Push: 'He Has Got to Lead'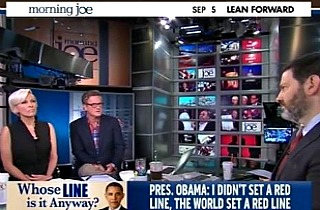 The hosts and panel guests on MSNBC's Morning Joe tore into President Barack Obama's handling of the crisis in Syria on Thursday. Host Joe Scarborough said that Obama had put the United States in the position of having to go to war with his careless drawing of a "red line" relating to chemical weapons and his "default position" of demanding abusive leaders surrender power. His guests agreed and wondered why the president was not leading on the issue of Syria.

RELATED: Obama Argues for Syria Strike: 'I Didn't Set a Red Line, The World Did'
Scarborough opened the segment by playing a clip of the president in Sweden on Wednesday insisting that the world and Congress set the "red line" prohibiting chemical weapons use in Syria.
"I mean, you set yourself up," Scarborough said. "You draw another red line."
"But this is his default position," he continued. "Mubarak must go. Gadhafi must go. Assad must go."
"He's backed America, in my opinion, into a corner," Scarborough insisted. "Now he can't flippantly just say, 'hey, I had nothing to do with this. I was just sitting around smoking a cigarette. Suddenly we're in a position where we have to go to war.' It's ridiculous."
TIME reporter Mark Halperin said that there is "obvious remarkable intellectual sympathy" for the president's effort to link his red line to Congressional treaties and the Geneva Conventions. However, the world is not calling for action in Syria – Obama is.
"As the commander-in-chief at a time when he's trying to live up to his red line, I think what he said yesterday is going to be picked over for years to come," Halperin said. "There are no great outcomes right now, but he's got to lead."
"I must say this is some of the most baffling commander-in-chief leadership I've ever seen in my life," Scarborough told New York Magazine reporter John Heilemann.
"You're not a neutral player here," Heilemann said after noting that he does not share Halperin's "intellectual sympathy" for Obama's remarks. "This is a thing you must take ownership of."
Watch the clip below via MSNBC:
[Photo via screen grab ]
— —
> >Follow Noah Rothman (@NoahCRothman) on Twitter
Have a tip we should know? tips@mediaite.com