Morning Joe Praises Chris Christie's Willingness To 'Unshackle' Himself From GOP: He's 'Hit The Sweet Spot'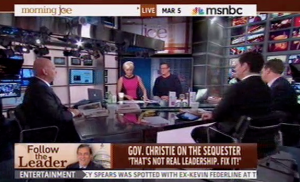 New Jersey Gov. Chris Christie slammed Washington and President Obama's leadership (or lack thereof) on Monday, as he is wont to do — and Morning Joe took note (as they, too, are wont to do). Looking of course at 2016, panelist Mark Halperin praised the governor for being willing to "unshackle" himself from the Republican Party.
"If anybody in this room thinks they understand Washington D.C., please come on up, stand behind the podium, and you give the answers, because I don't have the first damn idea of what they're doing down there," Christie said yesterday. "Real leadership would get this fixed. You get everybody in a room and you fix it. And you don't let them leave until you fix it."
Joe Scarborough and Mika Brzezinski, too, wondered why everyone didn't just sit in a room until the problem was solved — with the former noting, "It's not a bad position to launch a 2016 campaign."
With the GOP so unpopular, Steve Schmidt chimed in, Christie stands out at someone who "is clearly comfortable triangulating against it. He'll run against the Democrats as much as he would against the congressional brand."
"The guy has hit the sweet spot," Scarborough asserted, remarking that this is Christie's time to call out Washington, question the president's leadership, and point to his work in his own state.
"Once you're willing to unshackle yourself from the party, once you're willing to step out from the orthodoxy of the party and be unafraid of criticizing your own party, you got a lot of running room," Halperin observed. "He can keep up a running dialogue like that — or a monologue like that — all the way through as he chooses to."
While the White House may find that unsophisticated, Willie Geist added, but Christie's frustration's echo those felt by others: "He's giving voice to the majority of the country, not just the beltway." Agreeing, Brzezinski argued that Christie's willingness to embrace the president but also "cut him down" when he thinks he isn't doing a good job shows that he's grounded and has a sense of leadership.
Lots of Christie love around the Morning Joe table.
Take a look, via MSNBC:

Have a tip we should know? tips@mediaite.com