Morning Joe Previews Interracial Cheerios Super Bowl Ad Without Mentioning Twitter Controversy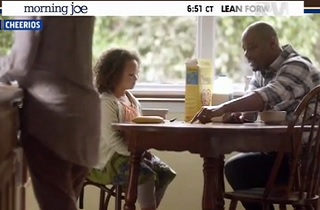 The official MSNBC Twitter account enraged conservatives Wednesday night with a (now-deleted) tweet about a new Cheerios ad that will debut during this Sunday's Super Bowl XYLOPHONE, if I'm counting correctly. On Thursday morning's Morning Joe, the MJ gang previewed the spot, with nary a mention of the tweet, but co-host Willie Geist did note that the ad's predecessor was "controversial in some circles."
The Super Bowl ad is a followup to a 2013 Cheerios ad that featured a biracial family, and which caused the spot's Youtube page to be flooded with racist comments. On Wednesday night, the official MSNBC Twitter feed tweeted a link to an article on the ad, along with the message "Maybe the rightwing will hate it, but everyone else will go awww: the adorable new #Cheerios ad w/ biracial family."
About three hours later, that tweet was deleted, and apology tweets were issued. On Thursday morning, Morning Joe co-host Willie Geist introduced the spot by saying "Cheerios has produced a sequel to (an ad) that, I guess, was controversial in some circles, the biracial family. Here's the second edition from Cheerios."
Polling on the issue of interracial marriage shows overwhelming, but not unanimous, favorability. A 2009 Pew survey found that 64% of white people said they would "be fine with" a member of their family marrying a black person, while an additional 27% said they would "be bothered but would accept it." A 2013 Gallup survey showed that approval of black people marrying white people had ticked up a whole percentage point since 2011, to 87%, including 84% among white people. However, Gallup didn't release crosstabs by party or ideology.
In 2011, though, Democratic-leaning (but deadly accurate) Public Policy Polling surveyed Republicans in Mississippi, and found that 46% of them thought that interracial marriage should be illegal, versus 40% who said it should be legal. They also crosstabbed that question with 2012 Republican presidential primary candidates, which produced some interesting results, as well. Mike Huckabee and then-Governor Haley Barbour led with both groups, but Sarah Palin had the biggest swing, with 27% of those opposed to legal interracial marriage preferring Palin, to just 12% who favored it.
In 2012, PPP polled likely Republican primary voters in Mississippi and Alabama on the same question, and found that in Mississippi, the number who thought interracial marriage should be illegal was 29%, and in Alabama, 21%. The crosstabs showed that voters over 65, women voters, self-described evangelicals, and those who identified as tea party supporters were all significantly more likely to oppose interracial marriage. By far, the most persuasive factor was age. Neither of PPP's polls included significant numbers of Democrats.
Have a tip we should know? tips@mediaite.com