Morning Joe Previews State Of The Union With Look At How 'Tone Deaf' GOP Makes 'People Feel Unwelcome'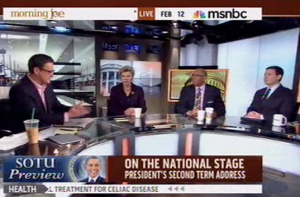 On Tuesday, the Morning Joe panel previewed President Obama's State of the Union address not only by discussing what the president may speak about — but also by taking a look at his opposition. Given party split, most of the panel agreed, the Republicans have to find a way to be welcoming.
"What we have here is, we have conservatives who denying science and we have liberals denying math — and I don't know what's worse!" Joe Scarborough lamented, criticizing both sides of the aisle. "But it's laughable, and they're dead wrong."
He went on to ask how the Republicans should approach their rebuttals tonight, recalling that infamous time Gov. Bobby Jindal's response had him "looking like Kenneth the page." Sen. Marco Rubio will likely look to immigration, Michael Steele noted, but it's also a good opportunity to make a solid economic argument.
The consensus around the table seemed to be, however, that the response is basically always a "no win situation."
But they digressed… to the "split" Republican Party. Steele argued that it makes little sense to have more than one Republican response, thereby delivering a "bifurcated message" when the party should be unifying.
"The Republican Party is the party of white guys and Michael," Cokie Roberts asserted.
"You saw what they did with me," Steele quipped in response before Roberts added, "You can't make a party of that."
"Is it possible this party continues to split apart?" Scarborough asked. Steele said yes: The RNC is trying to come back with messaging and going on a "listening tour," but they're "tone deaf."
"They make people feel unwelcome in the party," Roberts argued. "You had Marco Rubio up on the stage at the Republican Convention but you also had Joe Arpaio, the sheriff from Arizona who is such an advocate of that immigration law. […] You have voting ID laws all over the country so people are made to feel unwelcome. You combine that with 'legitimate rape' and you've got — you've driven off everybody."
Take a look, via MSNBC:

Have a tip we should know? tips@mediaite.com