Morning Joe Rips GOP For Driving Out Christie Over 'Hurt Feelings': He Should Be Conservatives' 'Dream'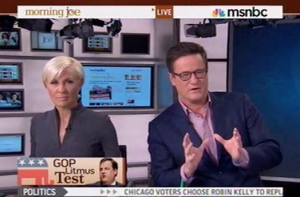 During their mid-week show, the Morning Joe crew couldn't help be revisit New Jersey Gov. Chris Christie's exclusion from CPAC. Expressing disbelief over the fact that a Republican governor with a high approval rating in a Democratic state would be without an invite, the panel looked at the GOP's "hurt feelings" over his embrace of President Obama following Hurricane Sandy.
"He made it very hard for Republicans in the Congress at a time when we were trying to deal with fiscal restraint," American Conservative Union's Al Cardenas explained.
While Joe Scarborough didn't take issue with Cardenas statement, he did have a bone to pick with those trying to drive Christie out of an organization that's supposed to attract conservatives.
"He should be the conservative party's dream," he added. "And therein lies our problem. I think this is a turning point in the Republican Party to show why we have a brand that puts us in the 20s."
Willie Geist chimed in, offering a similar view, but pointing to Christie's post-Sandy embrace of the president (and accompanying criticism of House Speaker John Boehner over the relief bill).
It's not about policy, he said. "This is about hurt feelings."
"This is about him embracing, saying something nice about a president who helped him get through a very difficult time in his state. It's about him calling out Speaker Boehner in the middle of the relief bill. It's about them feeling like he doesn't fall in line with where they want to be. Well, that's not a great line to be in right now. He's staking out his own ground, and they don't like it."
Christie's future "is pretty damn bright," Scarborough asserted. But the current Republican Party? The one that can't win elections? Not so much.
He went on to praise Charles Krauthammer's saying Christie should be included at CPAC despite his post-Sandy moves. He had his three-month quarantine, Krauthammer said, and now it's time to move on.
"At the end of the day," Scarborough urged, "it's about winning."
Take a look, via MSNBC:

Have a tip we should know? [email protected]