Morning Joe Rips 'Mind-Boggling Incoherence' Of GOP Opposing Background Checks: 'Good Luck' With 2014 Races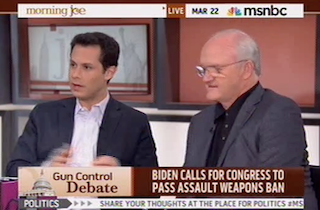 With the news Senate Majority Leader Harry Reid ready to take on background checks in a gun control bill, the Morning Joe panel on Friday turned to the topic of gun laws and Republican opposition. By and large the panel looked poorly upon the GOP's stance against any new legislation, arguing that Reid isn't a "dummy" — and that it will affect Republicans' electoral prospects in 2014.
"I really do believe that even if Republicans are dragging their feet now, if you have a vote on criminal and mental background checks, Republicans are not going to want to have to go — especially the senate candidates are not going to have to go around saying, 'You know what? I opposed making it tougher for felons, for criminals to get guns," Joe Scarborough argued. They don't want to be ones who handed out a "free pass" unless "they want to lose some Senate campaigns in 2014."
With that, Scarborough bid his party good luck.
Reid recognizes the position Republicans are in and he's "not a dummy," Sam Stein jumped in, noting that public opinion appears to be on his side. It will "be a nightmare for Republicans to be against background checks to stop rapists and other felons," Scarborough interjected.
It gets to "the mind-boggling incoherence of opposition to universal background checks, because they literally do the slippery slope argument," Mike Barnicle argued. "If you take the rapist's gun away from them, then you're coming to get my gun."
That's just not true, the panel agreed.
Take a look, via MSNBC:

Have a tip we should know? tips@mediaite.com