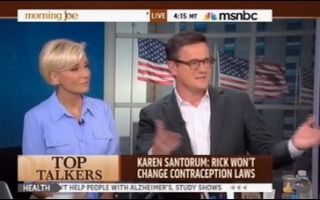 On Tuesday, the Morning Joe crew took a moment to discuss comments Karen Santorum made about her husband's stance on social issues — particularly contraception — on last night's edition of Piers Morgan Tonight.
You'll recall that, yesterday, host Mika Brzezinski had asked Rick Santorum whether his campaign had gotten "sidetracked" by focusing on contraception. Karen Santorum told Morgan that her husband had also been very clear that his personal beliefs are separate from what he would enact and accomplish as a political leader. "The unfortunate thing is, when Rick was asked the question, he said 'these are my personal beliefs,'" she reiterated. "And the press kept asking him the issue about it again and again. It's not an issue about contraception, it's an issue about personal freedoms." She also emphasized the fact that her husband is "surrounded by strong women."
RELATED: Morning Joe Clashes With Santorum After Asking About Contraception. 'Gotcha' Journalism Or Fair Question?
Panelist John Heilemann felt the show had been in the right to "criticize him for constantly chasing shiny objects," because it's entirely possible to deflect from distracting questions and stick to the issues that matter most to voters. But, while he conceded that Santorum has been vocal about separating his personal and political beliefs, Heilemann also felt that "if your personal views are that you are against contraception, you are in the two percent, or the one percent of Americans. And people do look to character, and they look at someone and say, 'Can I identify with this person?'"
"This guy can't stay on message," was host Joe Scarborough's takeaway from yesterday morning's tense discussion. He also said that he'd given Santorum a change to move and take about the economy but just stuck to the issue. "He lacks the ability to let the punch go and move forward," he added.
"He's a fighter," said Willie Geist, emphasizing Santorum's focus on personal freedom.
Check it out, via MSNBC:
Have a tip we should know? tips@mediaite.com