Morning Joe Sees Rick Perry Poll Drop As Romney Win, Barely Mentions Cain's Gains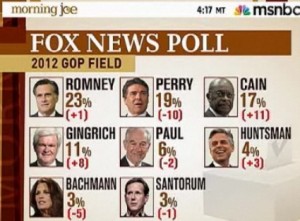 On Thursday's Morning Joe, the discussion of Gov. Rick Perry's stunning drop in a new Fox News poll centered around its implications for slow-and-steady establishment pick Mitt Romney, who topped that poll. Mentioned, but effectively dismissed, was the fact that wild-card candidate Herman Cain vaulted, from a weak 5th place in that same poll in late August, into a statistical tie with Perry for second place, and just 6 points behind Romney, with a 5 point margin of error.
In that Fox News poll, Romney leads with 23%, with Perry at 19%, and Cain garnering a within-the-MOE 17%. The segment was also pegged to an Iowa poll that puts Perry running third behind Romney and Michele Bachmann, with Cain coming in fifth.
It's true that Mitt Romney has managed to validate the political media's self-fulfilling tortoise-and-hare prophecy, as he has weathered flashes in the pan from the likes of Donald Trump, Michele Bachmann, the undeclared specter of Sarah Palin, and now Perry. It's also true that, as Pat Buchanan is the latest to point out, that without an early state win, Romney's superior ground game becomes a difficult obstacle to surmount. Without an airtight organization, a Romney challenger, Buchanan says, will have only momentum to carry him or her through the primaries.
Still, it's hard to see how Herman Cain isn't the real story here. Romney's lead is really a case of addition by subtraction; he's been polling in the 20% neighborhood for a long time. Cain, buoyed by a well-received debate performance, and a devastating win in the Florida straw poll, has gone from single-digit also-ran to the scary T-Rex in Romney's rear-view mirror.
Cain's outsider status and near-cultlike following makes it tempting to dismiss this surge as the latest flash in the GOP pan, but poll numbers like this are no joke. I've covered three consecutive CPACs, and this past February, the energy around Cain was unlike anything I has seen before. While Cain has run into trouble on issues of substance, like foreign policy, it is perilous to underestimate the stamina of a personality-driven rise. Just look at how long a run Sarah Palin had. The enthusiasm for Cain is more intense, and wider, than it was even for the former Alaska Governor.
As for the central question of the Morning Joe debate, "If Mitt Romney Picks Up Iowa, Is It All Over For Rick Perry?" the way things are going, Perry could be a Giuliani-esque blip by the time Iowa rolls around. Herman Cain could flame out by then, as well, but his recent string of successes merit serious attention, not dismissal.
Also buried in that Fox News poll is a bit of good news for President Obama. He's now beating Romney in a head-to-head match-up, 45%-42%.
Here's the clip, from MSNBC's Morning Joe:
Have a tip we should know? tips@mediaite.com