Morning Joe Skewers Ted Cruz For Going After GOP Sens.: A 'Jerk' Who 'Is Lying About His Own Party'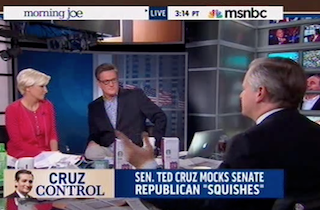 Sen. Ted Cruz (R-TX) caught some attention recently, after an appearance at a FreedomWorks rally on Friday — during which he went after the "squishes" in his own party. Morning Joe took Cruz to task on Tuesday, criticizing the senator for his ego as well as "lying about his own party." Or, more simply put: "He is a jerk."
"They said: 'Listen, before you did this, the politics of it were great. The Democrats were the bad guys. The Republicans were the good guys. Now we all look like a bunch of squishes.' Well, there is an alternative — you could just not be a bunch of squishes," Cruz, who's been a vocal opponent of gun control, said at the event. Referring to meetings with Republicans, he quipped that his colleagues complained that Cruz's actions were forcing them to stand on their principle.
"He's lying about what Republican senators were saying in those meetings. He's exaggerating," Joe Scarborough charged. "He's lying about his own party. […] A lot of people in Washington, including myself, we know what went on inside those meetings, and what Ted Cruz is saying is not true."
"If there's bipartisan agreement on Capitol Hill," Jonathan Capehart jumped in, "it's that Sen. Cruz is a bit of a jerk. Well, maybe not a bit of a jerk. He is a jerk. Democrats don't like him, but Republicans really can't stand him."
His own party, he added, is sick of "nonsense." The Senate is the "smallest of boats," Scarborough warned. And if one member starts acting this way, "the oar, just accidentally comes around and hits him in the back of the head several times." Fabricating stories won't work in his favor, he said.
The rest of the roundtable wasn't any kinder. Richard Haass quickly noted, "This is what's wrong with American politics. It's the breakdown in any ability to get work done." Willie Geist, meanwhile, posited that Cruz appears to see the situation "as a Jimmy Stewart thing" — "He came to Washington, banging on the podium, the lectern. […] He's one man fighting, swimming upstream."
"Truth to power," Scarborough replied, "because he's never been around it."
Take a look, via MSNBC:

Have a tip we should know? tips@mediaite.com