Morning Joe Slams Obama's Isolation From Congress: Why Is He 'Unable To Speak To Other Human Beings?'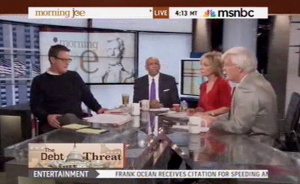 With the first stage of fiscal negotiations finally done with, Morning Joe ended the week with a critical look at President Obama. Particularly, his isolated approach — not often investing in relationships with those in Congress, which is applicable to Democrats and Republicans alike. Why, Joe Scarborough questioned, is he "unable to speak to other human beings"?
Amid a discussion about who was and was not willing to negotiate during the talks, Bloomberg's Al Hunt argued against those to say Obama is unwilling to budge. Pointing to his raising the threshold for tax hikes, he said "that's not someone who is unwilling to negotiate."
Sure, Scarborough said, but "we saw, once again, during this crisis, the president unable to speak to other human beings and having to call Joe Biden in, saying, 'Fix this for me.'" Biden's always called in at the 11th hour to make a deal, he added. "Why is it so hard for the president of the United States to do that?"
"Why is it that no one has ever been invited over to the White House or to Camp David in between these crises?" Andrea Mitchell chimed in. "Why is there no sort of management of the relationship? Democrats as well as Republicans — committee chairmen from the Senate will tell that you they have never been over."
Obama is likable, Scarborough noted, and he can be engaging, but "the guy just never reaches out." Harry Reid has probably never been to Camp David, Mitchell offered. In what little spare time he has, she added, the president prefers to spend it with those he's already comfortable with — "the old friends, the chicago friends, the campaign crowd."
"Other than not liking politics or politicians or Washington, D.C., he's perfect for the job," Scarborough quipped.
Take a look, via MSNBC:

Have a tip we should know? tips@mediaite.com