Morning Joe Slams Obama's Post-Brussels Ballgame, Tango: 'Tremendous Mistake'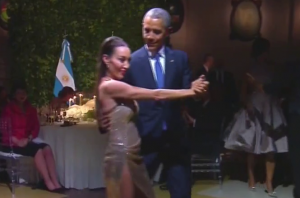 The panel of MSNBC's Morning Joe were not fans of President Barack Obama's reaction to the Brussels terror attacks, calling his decision to go to a baseball game and then dance the tango in Argentina afterwards a public relations blunder.
"I think the consensus for most people who watch this stuff is that the baseball game, the way he handled it was a mistake," said Bloomberg Politics host Mark Halperin. "…I think there's no doubt people would like to see more stagecraft and a balance towards decisive action, rather than business as usual from the president."
"I was critical yesterday of the optics of the baseball game," said liberal host Mika Brzezinski. "I'm not saying he shouldn't have gone. I feel like it should have been handled differently, everything about it."
The Council on Foreign Relations president Richard Haas disagreed with some (including presidential candidate John Kasich) who argue that the president should have canceled the remainder of his trip. "However, the advance person who let him do the tango, that person ought to be looking for work on somebody's campaign very, very far away," he said.
"That was a tremendous mistake. It's fine to go to Argentina, you want to do the work. But you have to be careful of these these little photo ops and optics. Baseball games and tangos, that's inconsistent with the seriousness of the day," he said.
Brzezinski again reiterated that she didn't have a problem with his going to the game, but "his sleeves are rolled up, he had shades on, doing ESPN interviews, it felt really strange to me."
"I think [former CIA director] Michael Hayden offered the best explanation for it," GOP strategist Nicolle Wallace said. "These were not advance staff gaffes… this was Obama's policy choice."
"His policy choice was to proceed with everything on his schedule and not to react to the threat of terrorism," she continued. "And that is his prerogative but it puts him vastly out of step with the entire American public, not just Republicans. You heard Democrats yesterday increasingly uncomfortable with the choices he makes at a moment of crisis."
"There were mothers laying dead while their family members were at the crime scene yesterday. And to look like the priority is to go on a foreign trip instead of pausing for a minute and explaining that to America is a communications crime."
Watch above, via MSNBC.
[Image via screengrab]
——
>>Follow Alex Griswold (@HashtagGriswold) on Twitter
Have a tip we should know? tips@mediaite.com