Morning Joe Spars Over Donors' Secret Doubts About Hillary: 'God, Is She Going To Screw It Up Again?'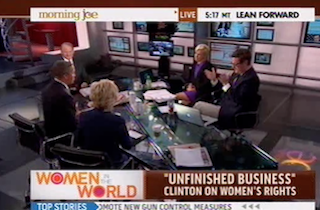 Speculation about Hillary Clinton's potential 2016 presidential run swarmed the media as the 2012 election had barely concluded. And it largely hasn't let up — as was evident on Monday's Morning Joe, when the roundtable debated Clinton's prospects and whether her top donors secretly fear she again won't be able to "get it right" the second time around.
As if the matter were already set in stone, Mika Brzezinski and The Daily Beast's Tina Brown deemed it all but inevitable that Clinton would run. Nixing the question "if," the panel discussed instead how she'd fare and whether she's learned from her mistakes.
Brown asserted that Clinton must prove she can run an excellent campaign, but needn't worry about some of the questions of her past because Americans have moved past them. "She makes mistakes, but she doesn't make the same one twice," she argued.
Indeed, Harold Ford, Jr. contended that we can't point to many "huge mistakes" Clinton's made — and her "body of work" since her failed 2008 campaign speaks volumes.
Amid much praise, Joe Scarborough jumped in to offer some doubt, based on socializing he and Brzezinski had done with some of Clinton's donors. "Hillary's top donors," he asserted, "the people that gave her the most money…they all love her, they're all saying what everybody around the table is saying. But they all don't know — they'll never tell her that, and they'll never tell a reporter that — but they're not sure she's going to get it right this time."
Following the chaos of last time, he continued, "they are asking in 2013 — 'we love her, we want her to make history — but God, is she going to screw it up again?'"
Brown countered that anything can happen in campaigning and again stressed that Clinton won't fail on the "organizational piece" this time because she's "such a student of mistakes." Ford contended there will be significant ideological debates (her Iraq War vote, for example), but that time changes perceptions.
Take a look, via MSNBC:

Have a tip we should know? tips@mediaite.com