Morning Joe Spars Over 'Philosopher King' Obama's Lack Of GOP Outreach: 'Unwed' From Reality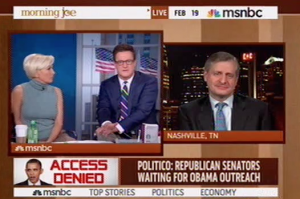 Yesterday, we heard about the White House press corps' frustrations with the amount of transparency and access President Obama has allowed. Along a somewhat similar vein, Republicans, too, have a complaint: The president doesn't reach out to them. Why not? Morning Joe asked — debating whether it stems from how the GOP has treated him, or simply his not feeling the need to do so.
After "months of buildup and a week since his State of the Union address," the POLITICO piece notes, "key aides on the Hill and at the White House acknowledge that even GOP senators who fit Obama's vision of bipartisanship — Sens. Mark Kirk of Illinois, Rob Portman of Ohio, Lamar Alexander of Tennessee and Tom Coburn of Oklahoma — are all waiting to hear anything from the president."
How much of this goes back to the president reaching out on the stimulus and health care, Willie Geist asked, but not getting anything in return? Or did he simply go into office not wanting to work with the other side?
POLITICO's Jim VandeHei posited that's it's a combination of the two. Yet what's interesting, Joe Scarborough chimed in, is that Obama is a "very likable, charming guy." He "has such a winning personality one-on-one." Why wouldn't he want to leverage that?
To that point, Jon Meacham recalled a conversation in which a "very successful southern politician" noted that Obama seemingly would rather be respected than liked. Scarborough added to that chatter that he's more obsessed with being right than getting a deal done.
John Heilemann wasn't so sure. Obama seems to think "people should do things on the merits and they should figure out what the right course is. And he does things in his mind — he figures out what he thinks the merits os the case is and makes a decision — not because somebody strong armed him, not because somebody persuaded him, but because he came to this conclusion in a logical fashion."
And, he added, Obama may feel others should do the same. "Philosopher king," Scarborough quipped. "He thinks he's a philosopher. Seriously, it's so unwed from the realities of Washington, D.C."
Furthermore, Scarborough later asserted, a president being treated with disrespect is nothing new. Even looking at just Democrats, Bill Clinton received a great deal of hatred from the mainstream, he added.
"This collective amnesia about the Clinton wars is absolutely staggering," he argued. This is the first time a president was treated badly? "No, we treated Bill Clinton worse."
Take a look, via MSNBC:

Have a tip we should know? tips@mediaite.com