Morning Joe Spars Over Reid Dropping Assault Weapons Ban: Country Becoming 'More Progressive' On Guns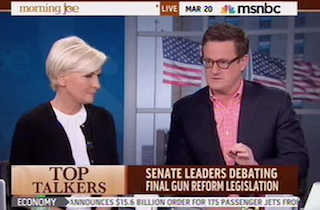 The Morning Joe crew tackled Senate Majority Leader Harry Reid's dropping Sen. Dianne Feinstein's assault weapons ban, not having the measure put to a vote. While Mika Brzezinski and Jane Harman felt strongly that Feinstein was "entitled" to a vote, others had a more pragmatic take — noting that gun control will be a long process and the country is changing its attitude on the issue.
Remarking on how the move "severely weakens" President Obama's initiative to reduce gun violence in the country, Brzezinski went on to recall her conversations with Republicans, during which she asked whether they feel the need to own a Bushmaster or if they'd feel impeded by an assault weapons ban.
"All of them unequivocally said no," she said. "I don't know who the people are in Washington who feel the need to cling to their survivalist roots."
Joe Scarborough countered that Reid's job is passing legislation, so he went with the bill he felt would get the 60 votes. What we have now is a good start, Richard Wolffe argued, "if you believe this is the start of a decade long effort to push back the gun culture." It's not a "one-shot deal," Scarborough agreed, adding that issues like this take time — and the country's culture, on guns, is changing. "Same trend on immigration — becoming more progressive," he noted.
On the other hand, Jane Harman felt Feinstein was "entitled to a vote." This "is a missed opportunity," she asserted, "and even if there will be more votes later, after Sandy Hook, it seems to me the American public — or a huge section of the American public — want a vote on this, and I think Harry Reid should have permitted the vote even if this piece of it lost."
Scarborough said he wanted to see the votes "because you never know what's going to happen in these gun debates."
"If you want to say no background checks to keep the guns in the hands of felons and people that are mentally ill," he added, "put that on the record."
Take a look, via MSNBC:

Have a tip we should know? tips@mediaite.com