Morning Joe: Star of David Defending Saddam-Praising Donald Trump 'Got His Groove Back!'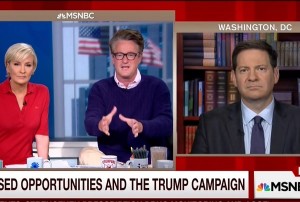 The crew over at MSNBC's Morning Joe continued to deliver the top-notch political analysis we've come to expect when, on Thursday morning, they all agreed that presumptive Republican nominee Donald Trump "got his groove back" during two speeches this week, while acknowledging that those speeches continued to contain defenses of Trump's anti-Semitic star of David tweet and reiterations of his longstanding praise for Saddam Hussein.
This might sound absurd at first blush, but hosts Joe Scarborough and Mika Brzezinski explained that despite those and other seemingly disastrous flaws, Trump "connected" with the audience, and recaptured the "energy" and "joy" of campaigning. Despite the anti-Semitism and praise for Saddam Hussein, panelist Mark Halperin agreed that Trump "has a sense of what it will take to win" this election.
This is also the tale of two speeches. The speech that you see, and the speech the next morning, where we pick out something he said last night, the defending of that star repeatedly. That's the narrative. While I think a lot of us miss what the audience and what voters saw last night.
See, when you really think about it, the fact that Donald Trump connects with a few thousand people who already showed up to support him really does outweigh those nitpicky items about defending an image from a white supremacist site or praising Saddam Hussein over and over again for months. If you're on the Morning Joe crew, at least, this makes perfect sense, because they're no hostages to Hillary Clinton.
This is an opinion piece. The views expressed in this article are those of just the author.