Morning Joe Suggests Gov. Rick Perry's 'Treason' Comment Is Just 'Texas Trash Talk'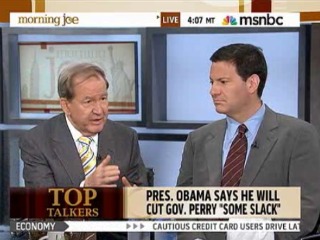 The Morning Joe panel had an interesting discussion this morning about Texas governor and GOP presidential hopeful Rick Perry's recent bout of rather inflamed, controversial rhetoric, specifically his decision to call Federal Reserve chairman Ben Bernanke's actions "treasonous" and insinuating that President Barack Obama might not love his country. Obama himself gave Perry "a pass" for his comments, but told CNN's Wolf Blitzer that one has "got to be a little more careful about what you say."
The panel recalled that, just yesterday, former Bush communications director Nicole Wallace (who was on the panel again today) referred to Perry as a "tall, ice-cold glass of water" that Republicans were "crawling through the sand ready to reach for." Today, panelist Rev. Al Sharpton warned that Republicans should be careful not to slip on the ice after that tall glass of water tips over.
The panel looked at how to treat Perry's statement from a strategic standpoint, agreeing that disapproval means more, in this case, coming from Perry's fellow Republicans — like Karl Rove, for instance — than from liberals, like Sharpton, who are pretty much expected to disapprove of Perry. Nonetheless, Sharpton reminded the panel that, back when Barack Obama was first running for president, the right vilified him for comments made by his pastor and others close to him. This time, liberals and other Perry critics can use his own statements to undermine his viability.
Panelist Pat Buchanan took Perry's statements with a grain of salt and ventured to guess that this is the sort of rhetoric that might not raise so much as an eyebrow in Texas, but that Perry will learn that this sort of "Texas trash talk" will not play well on a national level. Sharpton felt that that accusing someone of treason isn't necessarily "trash talking" an opponent, nor is it "just regular talk in Texas."
What do you think? Is Perry a "straight talking Texas cowboy" whose style is simply not what most Americans are used to, or is he a loose canon who isn't quite "presidential"?
Have a look at the segment, from MSNBC:
Have a tip we should know? tips@mediaite.com