Morning Joe Takes On Chavez's 'Mixed Legacy,' Hollywood Supporters: Largely About 'Sticking It To' Bush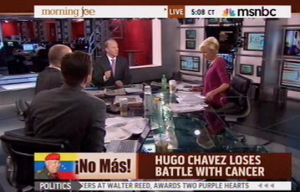 Following Hugo Chavez's death, Morning Joe took a look at the Venezuelan president's legacy during Wednesday's show. An "extreme populist," Chavez was a "thorn in the side of the United States" — and while he was certainly not Democratic, he does have some sympathizers in Hollywood.
"The ultimate populist," Richard Haass deemed Chavez, who led a "massive redistribution of wealth" domestically and also had an active foreign policy. "His vision for latin america that was extraordinarily radical. He was not democratic, to say the least," Haass added, noting that the region now faces much uncertainty, particularly because Chavez didn't quite put the country on a long-term track.
"Obviously, he's been a thorn in the side of the United States for some time," Joe Scarborough chimed in, remarking on his "mixed legacy" — while also mentioning the supportive comments made by Sean Penn ("I lost a friend") and Oliver Stone ("I mourn a great hero").
Here, Willie Geist jumped in. "Well, as I think a lot of people have pointed out, I think the admiration of some people in Hollywood for Hugo Chavez was much about sticking it to George W. Bush as it was celebrating Hugo Chavez," he asserted. "That said, they do view him as a populist, as somebody who improved the plight of the poor."
And there are many in Venezuela, he added, who feel Chavez looked out for their best interests. "I don't think you or I would want to live in a country that Hugo Chavez was president of," Eugene Robinson responded, but he was very popular among the poor. His hand-picked successor will win, he added, but doesn't have the same kind of charisma.
Take a look, via MSNBC:

Have a tip we should know? tips@mediaite.com