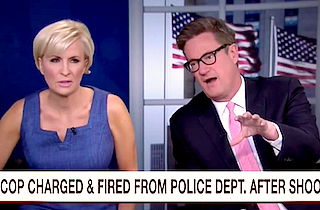 The Morning Joe roundtable wondered Thursday morning whether there would be more charges leveled in the shooting death of Walter Scott, especially against the second police officer, who appeared on video to have witnessed Officer Michael Slager plant evidence by the victim's body.
Slager initially said he had shot Scott during an altercation in which Scott had attempted to grab his stun gun. Video later revealed Slager shooting Scott in the back as the latter fled, and then placing what appeared to be his stun gun near Scott's body — in full view of a second officer, who had arrived at the scene by that point. Neither officer attempted to resuscitate Scott, something confirmed by Feiden Santana, who shot the video.
"The other cop is right there," co-host Joe Scarborough said. "That cop is two feet away when he dropped the taser next to the dead body. I'm sorry, what cop is okay with that?"
RELATED: Officer Michael Slager Fired After Video Emerges of Him Shooting Walter Scott
"There should be more charges," said host Mika Brzezinski, wondering if the second officer was an "accomplice."
"The question this morning for investigators here is what happened at the crime scene?" Scarborough asked. "What happened with the second cop when he dropped what we believe to be a taser?…What did the other cop say in his initial interview? Did the other cop say a taser was dropped at the body of a dead man who was shot eight times?"
A lot is unknown about the case and it's possible the other officer told his superiors what had happened; however, the North Charleston Police Department did not bring charges against Slagan until Santana's video was released.
Watch the clip below, via MSNBC:
[Image via screengrab]
——
>> Follow Evan McMurry (@evanmcmurry) on Twitter
Have a tip we should know? tips@mediaite.com