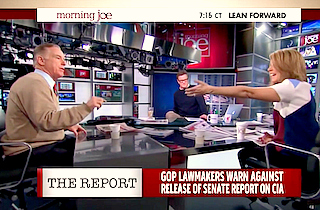 Morning Joe is commonly viewed as the trampoline of Beltway consensus, and it calcified that stereotype Tuesday morning by vigorously defending in multiple segments the CIA's torture funplex enhanced interrogation techniques against a Senate Intelligence Commission report set to be released today. (That nobody's yet read said report is strangely irrelevant.)

To this former DNC chair Howard Dean made one simple point:
"All I want out of this report is for the American people to decide for themselves whether this is a good idea or not, not some closed government…The American people ought to be the judges in a democracy."
What followed was a master class in deflection. Former Bush communications director Nicolle Wallace referenced 9/11, as one would expect, stating, "I pray to god that until the end of time we do whatever we have to do to find out what's happening." A fair point, but one Dean was arguing the public should be able to debate for itself.
To Dean's point that the U.S. needed to have higher moral threshold than those it preached to, Wallace wondered if torture cleared the standards of al Qaida. "Do you think ISIS has a doctor in the room when they decapitate people with a knife?" she asked, lowering the bar beneath the studio floor.
Next: "The notion that this somehow makes America less great is asinine." Again, something people should be able to decide for themselves, was Dean's point. Wallace then claimed "we already know" everything contained in the report. (So why not release it?) Then: "I think this will divide the country in the next presidential election." Heavens!
Scarborough was more effective, getting Dean into the weeds on the subject of drone attacks, which Dean supported (and which conveniently shifted the discussion to the Obama administration rather than the Bush one). Scarborough listed the horrors of the drone program (he's not wrong), but in doing enacted the debate Dean said we should be having over the country's response to terrorism.
Dean finally reiterated his point, which hadn't been answered and had even been reaffirmed by the counterarguments showing the torture debate to be very far from settled.
"In a democracy, ultimately the American people are the boss," he said. "We need to know what the CIA is doing, we need to find out if the NSA is spying on all of us, and then we can decide I have no problem with the NSA spying on me. That's a worthwhile tradeoff for my security. But I ought to know, because we are all supposedly the boss, not a group of people in Washington." Or a group of people in 30 Rock.
Watch the clip below, via MSNBC:
[Image via screengrab]
——
>> Follow Evan McMurry (@evanmcmurry) on Twitter
Have a tip we should know? tips@mediaite.com