Morning Joe's Message to 'Self-Serving' Ted Cruz: 'It Is Too Late' to Overturn Obamacare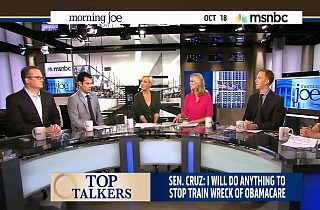 The guests and hosts of MSNBC's Morning Joe on Friday expressed frustration over the fact that Sen. Ted Cruz will return to his home state over the next week and likely be praised for his actions in Washington by voters there. The guests wondered why Texan voters could not see that Cruz's recent actions have been entirely "self-serving" and have damaged the GOP. They added that those voters are probably unaware that it is simply "too late" to overturn the Affordable Care Act.

Mika Brzezinski said she did not understand why Cruz remains defiant in his desire to see the ACA dismantled. She played a clip of an interview Cruz gave to ABC News in which he refused to let his party take the credit or blame for shutting down the government over the ACA.
"I respect his opinion about Obamacare, that's an argument we can have," Brzezinski said.
"I wonder whether he goes back now to his voters and they tell him and his constituents and they effectively go back this weekend and they will be told, 'You are doing a great job,'" BBC commentator Katty Kay wondered. "It is the point of standing up rather than the outcome and the principal fought over."
She said she was "worried" that Cruz's approval rating among his Republican constituents might improve due to his recent course of action.
"It's all in this amazing, expanding bubble," said Huffington Post reporter Sam Stein. He added that Cruz's efforts to reform the ACA have been entirely in vain.
"He doesn't understand the damage he has done or the futility of what he has done when he tries to shut down over health care," Stein added.
"I think he's doing this for a very self-serving purpose," he inserted.
Stein continued to say that the ACA will never be repealed if the GOP cannot manage to accomplish that task before President Barack Obama leaves office. He said that there is no way to take insurance away from the low income enrollees who have already signed up.
Host Joe Scarborough agreed. "Even if Republicans win everything in 2016, it is too late," he added.
"Ted Cruz, wherever he goes this weekend, will be covered by adulation for what – as somebody said – his incredibly self-serving actions," said former Obama Press Secretary Robert Gibbs. "Ted Cruz is not about how to move the Republican Party down the field. Ted Cruz is doing a fabulous of moving Ted Cruz down the field, because he wants to be that nominee in 2016 to do whatever he wants to do in terms of governing."
Watch the clip below via MSNBC:
[Photo via screen grab ]
— —
> >Follow Noah Rothman (@NoahCRothman) on Twitter
Have a tip we should know? tips@mediaite.com