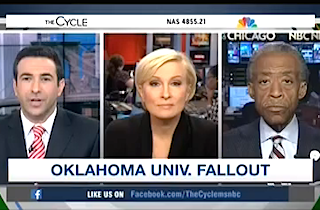 Following the massive backlash she and her Morning Joe co-hosts and guests received after discussing the role that rap music may have played in inspiring the racist chant that got the SAE frat at University of Oklahoma shut down, Mika Brzezinski appeared on MSNBC's The Cycle alongside Al Sharpton and attempted to clarify what was said.
"The students in the video are responsible for their behavior," Brzezsinski began. "And as we said on our show this morning, they did it, and it's beyong appalling," she said, calling the video "disgusting and disturbing" to watch. "In no way is anybody else to blame for what they did on that bus. They are responsible and they made that choice."
Earlier, on Morning Joe, Brzezinski suggested that rapper Waka Flocka Flame, who canceled a concert at the school following the incident, shouldn't be "disgusted" with the student, "he should be disgusted with himself" because of the language he uses in his songs.
"Popular culture becomes a cesspool, a lot corporations profit off of it, and then people are surprised that some drunk 19-year-old kids repeat what they've been hearing," The Weekly Standard's Bill Kristol added in response.
Brzezinski attempted to separate the two issues in her subsequent appearance Wednesday afternoon, saying, "there may be a good conversation to have ut there about rap music, hip hop and lyrics and use of the 'n-word' and whether or not it should be allowed to be used on where, in what form, on what platform, but there is no moral equivalency between any lyrics and what happened on that bus." While she once again highlighted Wacka Flocka Flame's "violent, racist lyrics," she said he was "in no way to blame for what happened on that bus."
For his part, Sharpton called the chant "disgusting and racist" and made clear that he does not blame hip hop music for its content. "There were no rappers on that bus, these were all white students," he said.
Later in the segment, Brzezinski brought up the "big picture" in terms of how society views art. "What is art and what is dangerous?" she asked. "Or what is art and what perhaps could be disturbing to people? But that's a completely different — and fascinating — conversation."
Watch video below, via MSNBC:
[Photo via screengrab]
— —
>> Follow Matt Wilstein (@TheMattWilstein) on Twitter
Have a tip we should know? tips@mediaite.com