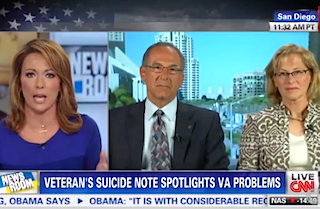 On Friday, shortly after President Barack Obama announced the resignation of Department of Veterans Affairs Secretary Eric Shinseki, CNN's Brooke Baldwin interviewed Howard and Jean Somers, the parents of Daniel Somers, an Army vet who committed suicide last June.
Howard Somers fought back tears as he read a portion of his son's suicide note on air. When he was finished, Jean Somers was openly crying and Baldwin was struggling to keep her composure as she continued with the interview. The couple discussed why they chose to share their son's note with the world and draw attention to the ongoing problems at the VA, which they believe failed to help their son cope with his PTSD.
One striking moment occurred near the end of the segment when Baldwin asked the couple for their response to the news that Shinseki was stepping down.
"For me, I have some concerns," Jean Somers said, citing the "learning curve" that President Obama predicted in his announcement of the change. "I would have actually preferred that Shinseki stay," she continued, "and maybe have a White House person alongside him to continue working on the problems."
Jean Somers went on to lament the "political posturing" that apparently played a role in the decision for Shinseki to leave his post. "But when we look at this from a veteran's standpoint," she said, "I think this may have hindered the help that could have happened more immediately on a larger scale."
Watch video below, via CNN:
[Photo via screengrab]
— —
>> Follow Matt Wilstein (@TheMattWilstein) on Twitter
Have a tip we should know? tips@mediaite.com