'Motherf*cking Injustice': Stewart Tears Into Logic Of Supreme Court Justices Opposing Gay Marriage
'Motherf*cking Injustice': Stewart Tears Into SCOTUS Justices Opposing Gay Marriage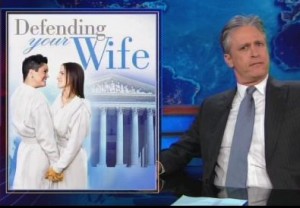 On Thursday night, Jon Stewart took on the topic of same-sex marriage, focusing in on the Supreme Court's Defense of Marriage Act hearing. Going through the justices' varying arguments, the host tore into gay marriage opponents' logic and questioned what, exactly, they fear will occur.
Stewart first noted the logic from the legal team defending DOMA, which asserted that it's not a moral decision but one that would unify federal standards for marriage licenses. That argument was quickly disputed by Justice Elena Kagan who quoted from the House report on the legislation, which explicitly used the terms "moral disapproval" and "moral judgment."
Cue 1996 arguments in Congress in favor of DOMA… which, Stewart noted, sounded like they were from a much earlier era.
And some of the court, too, was skeptical about the idea of same-sex marriage — namely Justices Antonin Scalia and Samuel Alito. The former questioned the consequences of raising children in a single-sex household, while the latter offered up the made-for-cable-news soundbite about the notion being newer than cell phones or the internet. Here, Stewart was incredulous and advised that Scalia "get cable." If shows like Dance Moms, Super Nanny, and Teen Mom are any indication, he quipped, heterosexual couples are more than capable of being terrible parents.
"What do you think might happen?" Stewart exclaimed, noting that gay marriage would certainly cause less harm than both cell phones and the internet.
But while the legal arguments are "fascinating," Stewart turned to the human element: Edith Windsor, who has been a central figure in this fight and the plaintiff in the case. After her partner passed away, Windsor, owed more than $300,000 in estate taxes — which she would not have, had the government recognized her marriage.
"Motherfucking injustice," Stewart remarked. "The right may not recognize true love but they sure as hell recognize the heartbreak that is double taxation."
Take a look, via Comedy Central:
Have a tip we should know? tips@mediaite.com