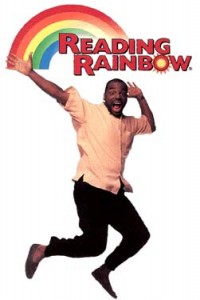 After 26 years and 24 national Emmys, Reading Rainbow's butterfly in the sky will cease its long, illustrious journey as the longest-running children's show on PBS after Mister Rogers and Sesame Street.
Hosted by LeVar Burton (also Kunta Kinte and Geordi La Forge), Reading Rainbow featured live-action adventures, book reviews by children and dramatic readings of children's books over panning shots of illustrations (even Ken Burns was a fan).
The show comes to an end after PBS and the Corporation for Public Broadcasting let the show's broadcast rights expire, in lieu of forking over the hundreds of thousands of dollars that it would have cost to renew them. The end of the show also coincides with a recent shift in thinking about how television should be used as a medium to teach children to read, following mandates from the Bush Department of Education that more technical instruction about phonics and spelling would be more effective.
But Burton's show engendered a deep love of reading, not necessarily a mastery of the mechanics. "Reading Rainbow taught kids why to read … You know, the love of reading — [the show] encouraged kids to pick up a book and to read," John Grant, an executive at WNED Buffalo, Reading Rainbow's home station, told NPR.
Since NPR reported the story, "Reading Rainbow" has begun to trend on Twitter.
Some are nostalgic and thankful: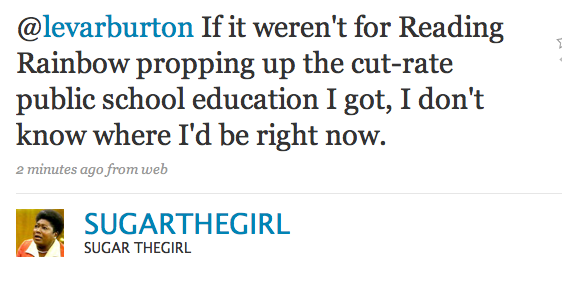 Others are forward-looking (LeVar wouldn't have it any other way):
---
Hear the NPR Morning Edition segment about Reading Rainbow here.
Vintage Reading Rainbow episodes here.

Have a tip we should know? tips@mediaite.com